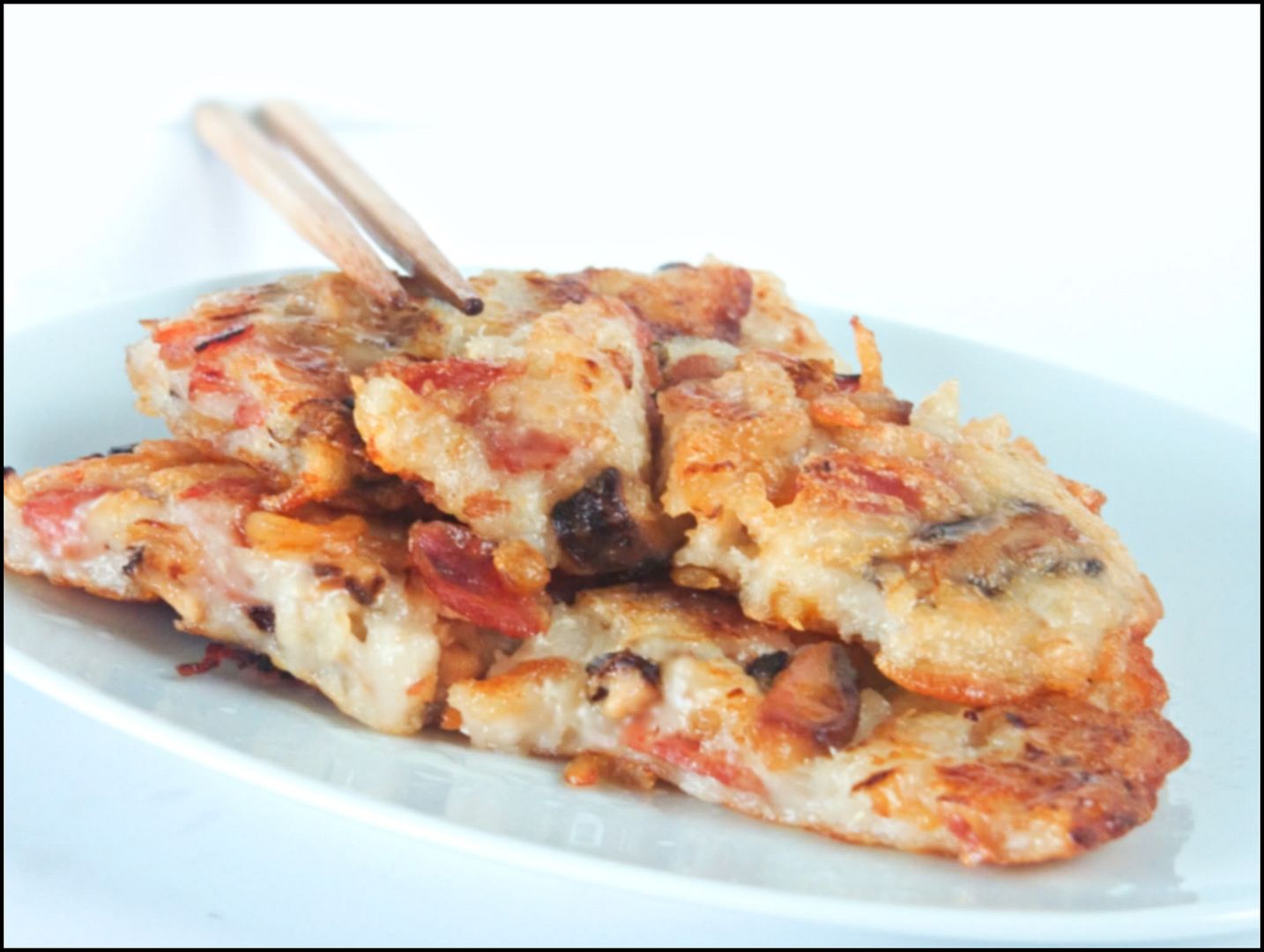 I got hold of Jacky Yu's cookbooks a few days ago, and have been poring over his recipes as bedtime reading. Who's
Jacky Yu
(

余健志)
? He's chef extraordinaire from Hong Kong and founder of
Xi Yan Private Dining Restaurant
. Famed for his originality in contemporary Chinese cuisine, Jacky Yu combines ingredients and techniques across different regions in China, South-East Asia and Japan. His signature dish is Chicken in Hot and Spicy Sauce (口水鸡), a traditional Sichuan cold chicken dish which he has made famous by adding
century eggs
. You know where he gets his creativity from? His mother! That's right, his mother is also quite inventive, so it's all in the genes. According to the son, Mum's Turnip Pancake (妈妈萝卜餅) was invented by his mother. Of all the recipes in his three cookbooks, this is the only one he attributes to Mrs Yu. That's gotta mean it's good, right? I must say it sounds quite original. The recipe's like Lor Bak Ko (萝卜糕) but it doesn't involve steaming, and has glutinous rice flour added. Usually, Lor Bak Ko is made with only rice flour, without any glutinous rice flour. And it's steamed, then pan-fried when it's cold. I reread Mrs Yu's recipe in both Chinese and English (the cookbooks are bilingual) to make sure there wasn't a mistake. Nope, it says 'Scoop turnip
batter
onto pan. Fry until both sides are browned.' It goes on to explain that the amount of glutinous rice flour should be 1.5 times plain rice flour. Like mother, like son; both of them break rules.

I woke up this morning and decided to try Jacky Yu's Mum's Turnip Pancake. That's what happens when I spend a couple of hours reading cookbooks before going to bed. Also makes me hungry late at night, but that's another story. So, does the recipe work? Is it good? Yes, it works. Yes, it's very, very good, and different. It's like a cross: 80% Cantonese Lor Bak Ko and 20%
Nian Gao
(年糕). Inside, it's soft, smooth and just a wee bit sticky and chewy. Outside, it's way, way more crispy than normal steam-and-fry Lor Bak Ko. Eaten piping hot, it goes
C-R-U-N-C-H
when I bite into it. For me, that's the killer part. I've never had steam-and-fry Lor Bak Ko that's so crispy. From now on, it's bye-bye traditional Lor Bak Ko and hello Mum's Turnip Pancake. Next Chinese New Year, I'm having Mum's Turnip Pancake and renaming it Lor Bak Nian Gao. Saves me the trouble of having both Lor Bak Ko and Nian Gao, which are traditionally eaten during the Chinese Spring Festival.
18 February 2010 update – here's a photo of the
nian gao
I bought for the Chinese New Year:
Check these out:
Spareribs with
Fermented Black
Bans

Char Siu Pau
(Roast Pork Buns)

Yam Kueh

Kong! Bak! Pau!

MUM'S TURNIP PANCAKE

(妈妈萝卜餅)
Source:

Xi Yan Cuisine

, Jacky Yu (slightly modified)
(For 10 persons)

1 medium size turnip (aka white radish and daikon), about 300g peeled
450 g glutinous rice flour
300 g rice flour
40 g (salty) preserved minced turnip (菜脯), washed and rinsed 3 times
2 medium size dried scallops
50 g dried prawns
8 dried black mushrooms
2 pairs Chinese preserved sausage (

lup cheong

), washed and sliced thinly
3 medium size peeled shallots, washed and thinly sliced
3½ tsp salt
oil for stir and pan-frying

Wash dried scallops. Steam till soft (about 45 minutes). When cool enough to handle, tear into thick shreds. Wash dried prawns and dried mushrooms. Soak till soft (about 30 minutes), drain and squeeze dry. Set the water aside. Chop prawns roughly if they are big. Slice mushrooms thinly.

Add 600 ml water to the water for soaking dried prawns and mushrooms in a pot. Bring it to a boil over low heat. Meanwhile, wash turnip. Peel and shred finely. Add shredded turnip to the water when it's boiling. Simmer for a few minutes, covered, till soft but not mushy. Remove turnip to a big mixing bowl with a slotted spoon. Let excess liquid drain back into the pot. Measure the liquid and add more water to make up 1,120 ml (4 2/3 cups).



Heat 2 tsp oil in a wok till smoking. Add shallots, dried prawns and dried scallops. Fry over high heat till lightly golden. Add mushrooms, sausages and preserved turnip. Fry till fragrant. Mixture should be quite dry, not too oily. Turn off the heat.

Put stir-fried mixture, drained turnip, salt, rice flour and glutinous rice flour in a big bowl and mix well. Slowly add the 1,120 ml water measured, which should be hand-hot. Stir as the water is added. Mixture should thicken to a creamy consistency.

Heat 1 tbsp oil in a wok till smoking. Add 1/2 cup batter to the wok, swirling to form a pancake about 1/2 inch thick. Fry on high heat till the bottom is golden brown. Turn it over and cut into 4 pieces with the spatula so that the centre cooks quicker. There should be some oil floating around the batter whilst pan frying. Add more oil when necessary.

Serve with XO or chilli sauce.
.