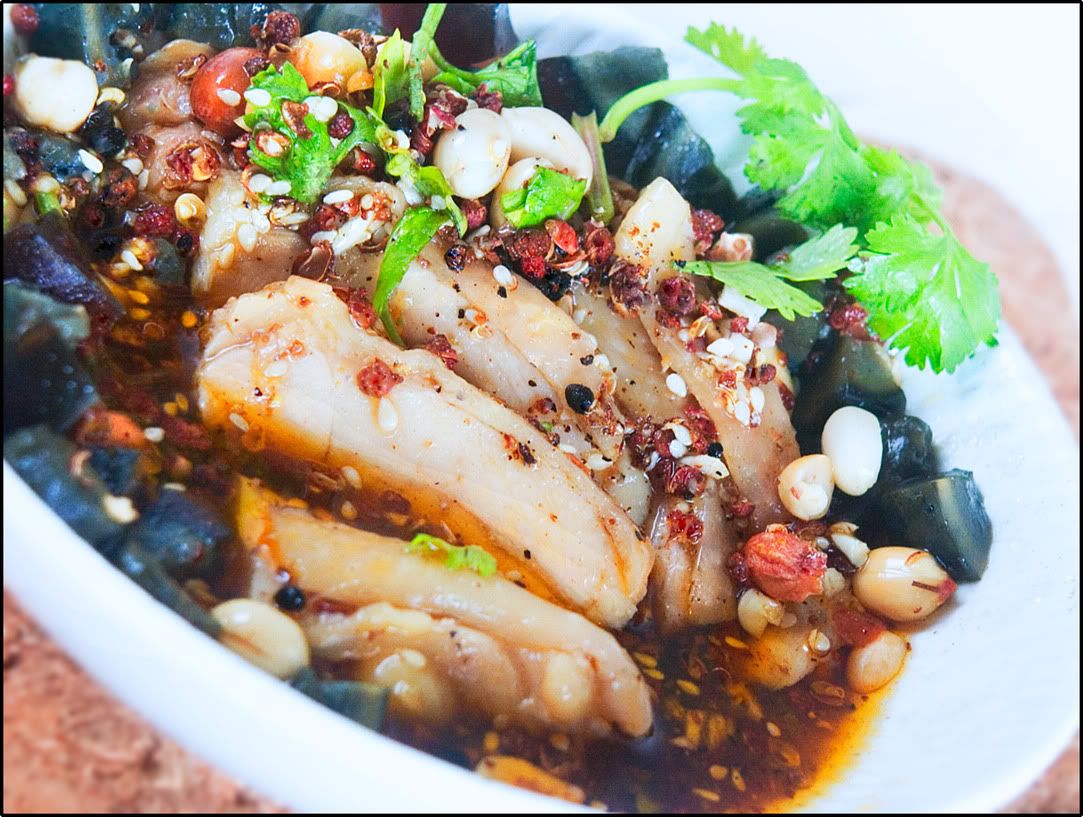 I'm not sure what Kou Shui Ji (口水鸡) should be in English. This is a Jacky Yu (of Xi Yan Private Dining) recipe, which he has named Chicken in Hot and Spicy Sauce. But I think that's a bit too generic. Sounds like Kung Pao Chicken, which is completely different.
'口
水' actually means 'saliva' and
'鸡'
means 'chicken'. Hence,
'口
水鸡' is sometimes translated into 'Saliva Chicken'.
Ho . . .
hum, I don't like that either. The translation is a bit too literal and direct for me. I'm leaning towards Sichuan Drooling Good Chicken, meaning it's way better than 'finger lickin' good" fried chicken.
What do you think? Kou Shui Ji is indeed drool worthy, especially with the addition of century eggs, which are not found in the original Sichuan version. It's Jacky Yu's personal touch and once again, it's a brilliant adaptation. The spicy and fragrant sauce brings out the creaminess of the century eggs, which adds a different textural dimension to the dish. And provides a nice contrast to the crunchy Sichuan peppercorns and peanuts. But if you're not into century eggs, by all means leave them out. With or without the scary looking black eggs, the poached chicken is really yummy with the sauce and condiments. I like this dish so much I have a bottle of the sauce mixed and ready to be used with just a few shakes. I drizzle it on not just chicken but also pork, prawns, squids and instant noodles. This is my Homemade Sichuan Miracle Sauce. It's good for everything!
Other Jacky Yu (Xi Yan) recipes:

Prawns with Red
Fermented Beancurd

Crispy Pork Ribs with
Dried Tangerine Peel

Tomatoes in Sesame
Wasabi Sauce

No-Steam Radish Cake
(Lor Bak Ko)

CHICKEN IN HOT & SPICY SAUCE (

口水鸡, KOU SHUI JI

)


Source:

Xi Yan Cuisine

, Jacky Yu
(For 8 persons)

1 chicken
3 century eggs
1 pack mung bean sheets (粉皮)
roasted sesame seeds
roasted peanuts
diced Chinese celery


Hot and spicy sauce


8 tbsp light soy sauce
2½ tbsp Zhenjiang vinegar
4 tbsp water
2 tbsp sugar
1 tsp ground Sichuan peppercorns (I use much, much more)
1 tbsp finely minced ginger
1 tbsp finely minced garlic
1 tbsp finely chopped Chinese parsley
4 tbsp white sesame oil
chilli oil to taste

Wash chicken and brush the inside of the chicken thinly with honey. Steam for 18 minutes. Turn heat off and keep the lid on. Leave for 10 minutes. Remove and set aside to cool. Adjust steaming time if necessary. Do not overcook chicken so that it's moist and tender.

Dice century eggs. Cut mung bean sheets into strips. Soak mung bean sheets in boiling water until transparent. Refresh in ice water. Drain.

When chicken is cool, debone and chop into bite size pieces. Transfer to a deep dish. Add century eggs and mung bean sheets.

Mix sauce ingredients thoroughly. Add sauce to chicken along the rim of the dish.Add chilli oil to taste and 4 tbsp of sesame oil. Sprinkle with sesame seeds, peanuts and diced Chinese celery. Serve.
.