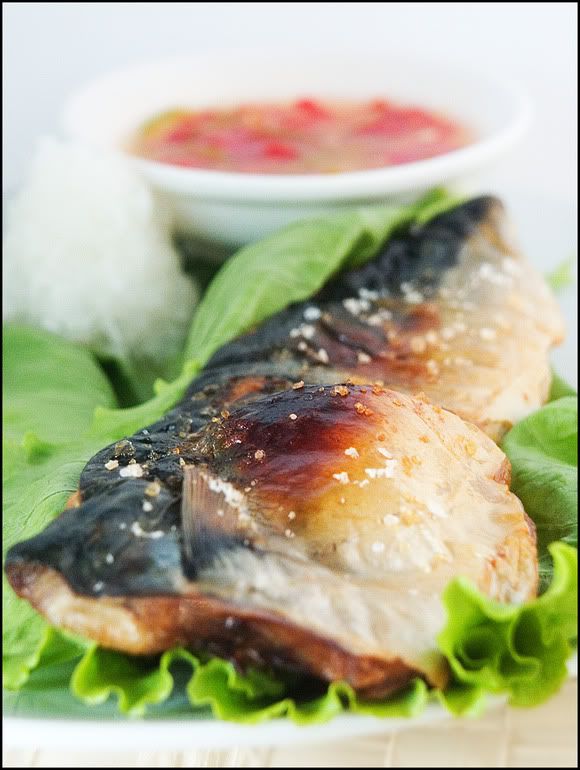 I had a little birthday party today. It was a small, cosy affair with just the birthday girl, two of her buddies and me.
Everyone at the party loves fish, so I made a fish dish,
saba shioyaki
. The fillets, grilled and seasoned sparingly with sea salt, turned out beautifully although it was only my second time DIYing
saba shioyaki
.
When I made my first attempt last night, I didn't feel too confident. Mum always said fresh is best but the mackerel I had were frozen and shipped all the way from Norway. I was also afraid my little toaster oven might not be hot enough for a charred and crisp outside whilst keeping the inside juicy and moist.
After I thawed the frozen fish, my confidence sapped further. The fish skin looked OK-ish, not shiny and glossy like fresh fish. And the fillets were limb and soggy. Good, fresh fish should be firm and dry, and the thawed mackerel was anything but. I thought it was going to be a waste of time, effort and money, and I would have to think of an alternative for the birthday bash.
As it turned out, all my fears were unnecessary.
My trusty little toaster oven rose to the task admirably and didn't fail me. It was so hot the fish skin puffed up impressively with two big blisters as it was being grilled. The small blister deflated outside the oven but you can see the big one in the photo.
Despite being soggy when it was raw, the fish was surprisingly compact and juicy after it was grilled. Maybe it was soggy with oil instead of water? Nothing watery came out of the fish at all, not even one drop.
To minimize the moisture lost, I thawed the mackerel slowly, grilled the cut side first, and made sure it wasn't overcooked. Taste wise, it was very flavourful and fresh with no hint of its humble, frozen origins.
On the whole, I was very pleased with my homemade
saba shioyaki
. The birthday girl and her buddies – all fish experts – also gave their hearty approval. Here's a photo of Mel, who turned three today, eyeing my plate after gobbling up her share: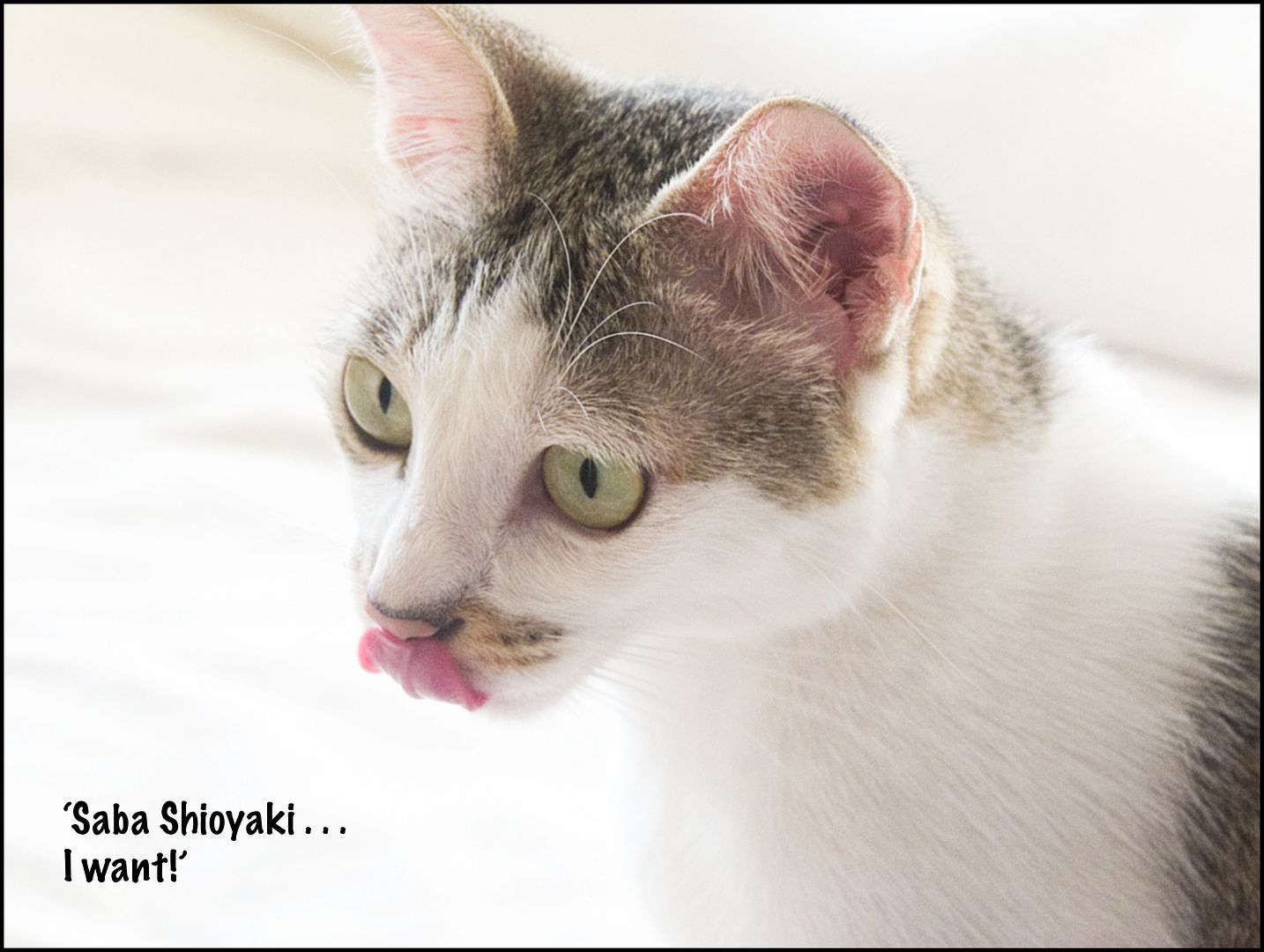 The four-legged fish experts were all clambering for more mackerel 'cause they had only a tiny, tiny morsel each. From the tail end where there was less fat, and without salt. Cats really shouldn't eat mackerel (or tuna) at all unless there's vitamin E added. Otherwise, they may die from yellow fat disease because of undigested fish oil accumulated in the body. But I think a tiny piece at a birthday party is OK. Happy Birthday, Mel! You're a big girl now, 28 in human years. Yay!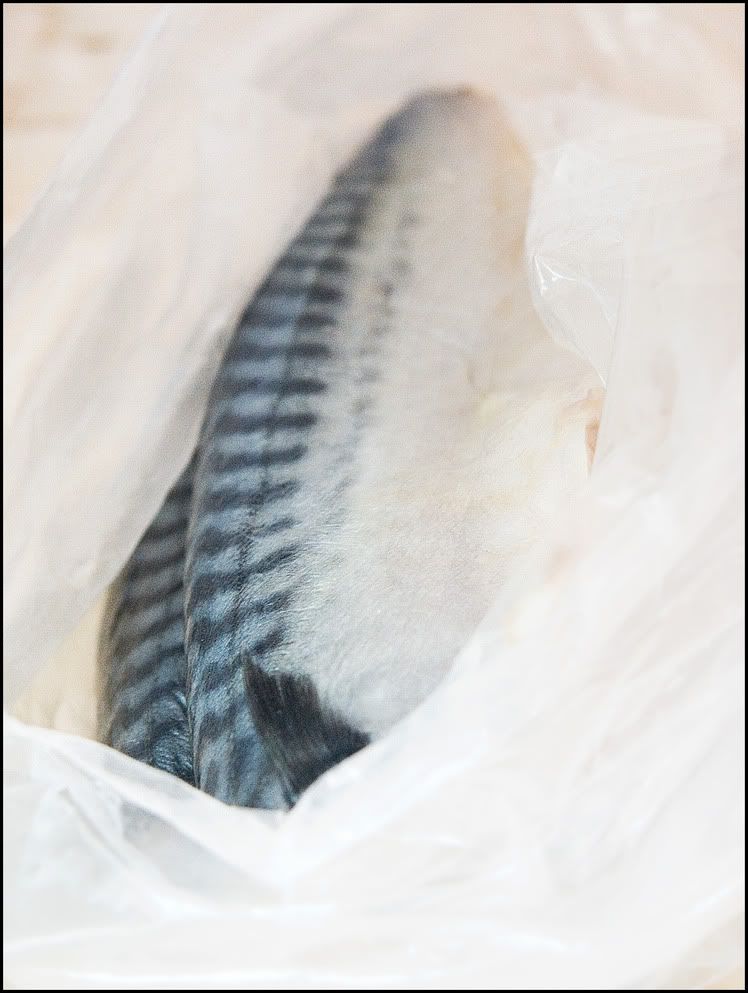 SABA SHIOYAKI


(For 5 persons)

400 g mackerel fillet (5 pieces)
sea salt to taste


Japanese Dip – Traditional


3 tbsp finely grated

daikon

(aka radish and turnip)
3 tbsp Japanese light soya sauce
5 wedges lime or lemon, on the side


Singaporean Dip – My Favourite


5 chilli padis, thinly sliced
juice of 5 calamansi limes
peel of 2 calamansi limes, julienned
Chinese light soya sauce to taste (or omit and add a wee bit more salt to mackerel)


Teochew Dip – Why Not?


3 tbsp fermented soya beans
2 tbsp lime or lemon juice
3 pieces chilli padi, thinly sliced
2 slices young ginger, julienned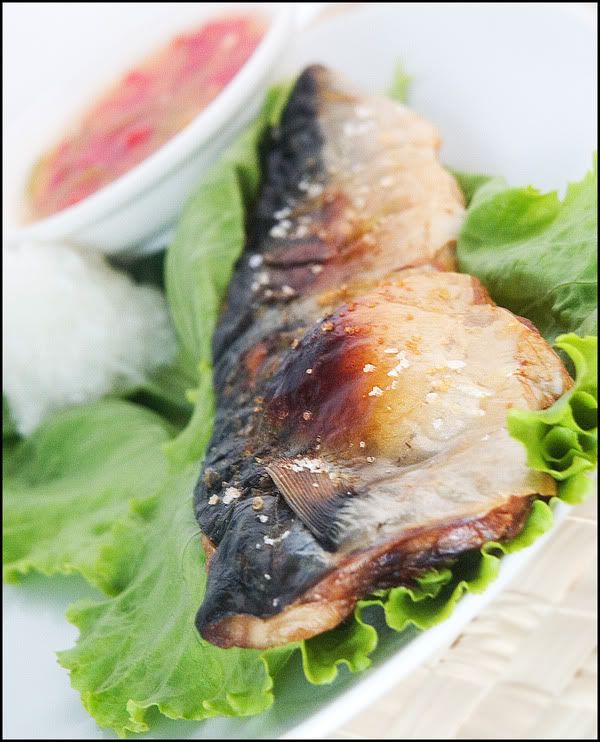 Give frozen fillets a very quick rinse and dry well with paper towels. Let them thaw in the fridge, skin side down. This takes about 2

½

hours with no visible moisture loss. Alternatively, place fillets skin side down in a metallic pot with the cover on. This takes about 45 minutes to thaw with each piece losing a drop or two of moisture. It's better than thawing in the open. Whilst mackerel is thawing, make a dip and adjust to taste if necessary.

If using fresh fillets, give them a very quick rinse and dry with paper towels. Dab cut side gently so that water is absorbed, not oil.

Preheat grill and grill tray for at least 15 minutes. Line grill rack with parchment paper.

When frozen mackerel pieces are thawed, dry skin side with paper towels. Leave oily cut side alone. Arrange fillets on grill rack, skin side down. Sprinkle cut side lightly with salt. Grill with door ajar. Fillets should be as close to grill as possible, not more than 2 inches away. After 5 minutes, when cut side surface is cooked and slightly brown, flip fillets over. Sprinkle skin side lightly with salt. Grill 10 minutes till fish skin is brown and crisp. Serve immediately with dip.