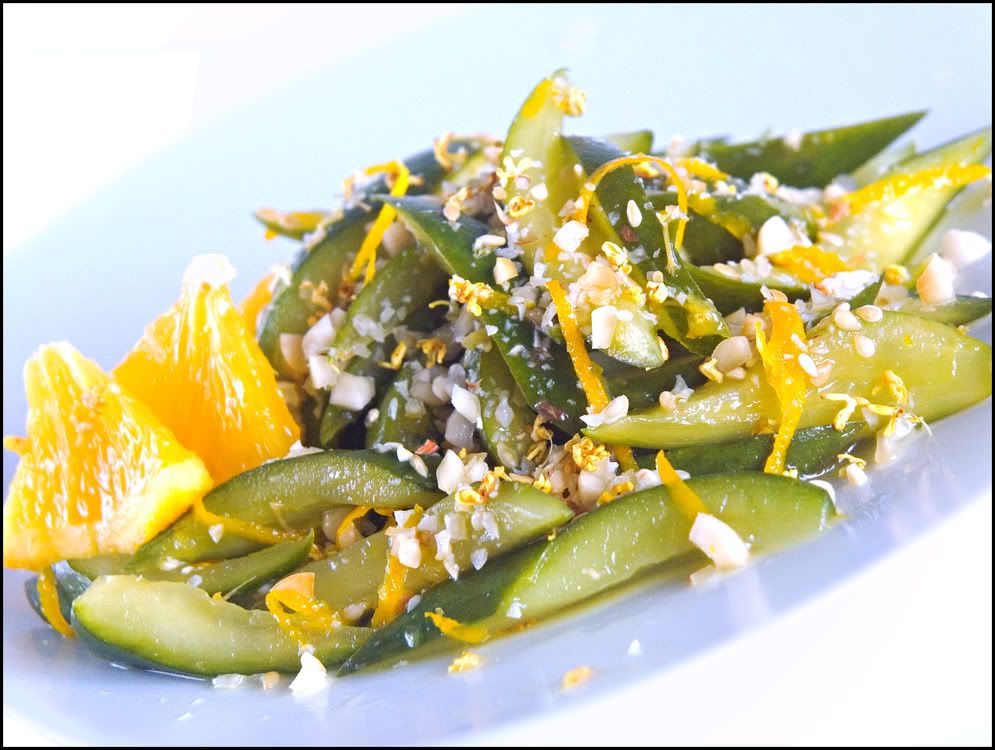 It's the Mid-Autumn Festival this Saturday, so mooncakes are everywhere in the shops. No, this post isn't about mooncakes, as you can see from the photo, but it has something to do with the Mooncake Festival nonetheless. The recipe for pickled cucumbers – from
Jacky Yu
of
Xi Yan Private Dining
– uses osmanthus flowers.
Osmanthus
is derived from the Greek words,
osme
(fragrant) and
anthos
(flower). These little 'fragrant flowers' are usually in full bloom around this time of the year, and traditionally associated with the Mooncake Festival in China (but not in Singapore
lah
). According to legend, there is a giant osmanthus tree on the moon (which creates the shadows on the moon). This is the tree that a giant named Wu Gang has been ordered to chop down as a punishment. It's an eternal, never-ending task because the tree has magical powers. As soon as Wu Gang chops it, it heals itself and grows again! There are a few versions on why Wu Gang has such a terrible punishment. One says it was because he snoozed in a class for immortality, which pissed off the teacher, the Jade Emperor. Well, what can I say? It's a good thing Jade wasn't my teacher, or I would be chopping trees as well. Another version says the punishment was because Wu Gang killed the Sun God's nephew, who was having an affair with his wife. Hm, maybe he should have killed his wife instead? A third version – the one I like most – says Wu Gang was a security guard at the Gate to Heaven. He fell asleep whilst on duty and when he was caught by the Jade Emperor – head honcho of Chinese gods and deities – he was sentenced to the impossible task of chopping down the self-healing osmanthus tree. Gosh, if only all security guards found snoozing on the job are as severely dealt with, Wu Gang would then have
plenty
of helpers.
The people in China love picnicking under osmanthus trees in full bloom with osmanthus flavoured mooncakes. That's quite nice, don't you think? I've not seen osmanthus mooncakes in Singapore and I don't have time to make some by Saturday. In any case, I don't think we have osmanthus trees in Singapore. Well, at least I have pickled cucumbers resplendent with the sweet fragrance of osmanthus flowers, and it's a lot less fattening than mooncakes.
Check these out:
Creamy Black
Pepper Chicken
Chops

Spareribs
with Dried
Tangerine Peel

Crispy Spring
Rolls (Popiah)

Braised Beancurd
with Veggies