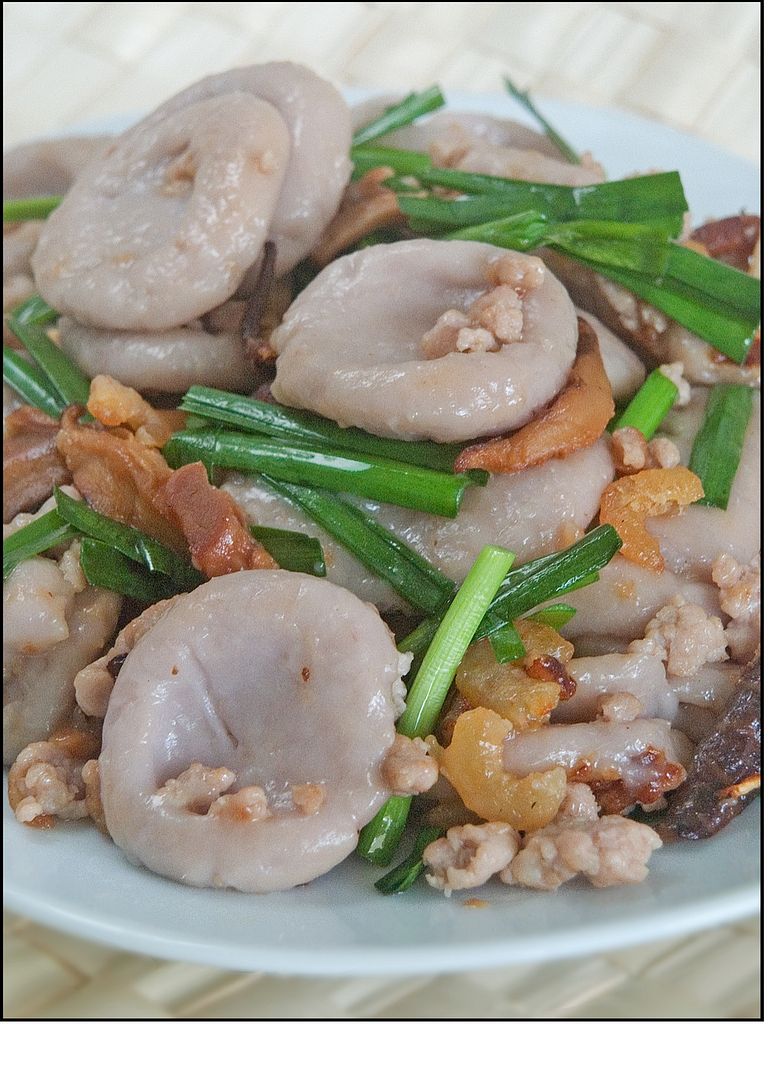 Sometimes, calculators just can't compare with abaci. Calculators aren't edible, nor do they bring you wealth and good luck . . . .
Of course, you can't eat an abacus either but you can make abacus beads, aka
suan pan zi
(算盘子). These little discs which look like their namesake are a delicious Hakka noodle that's served stir-fried or in a soup.
SPZ come with a feature that no calculator could ever have. If you eat
suan pan zi
during Chinese New Year, your abacus will be click-clacking non-stop in the new year, counting the amount of money you will have! Yup, hand on heart, that's absolutely true.
SPZ's magical power benefits not just mercenary adults. My Hakka sister-in-law's mother swears that kids who eat 算盘子 during Chinese New Year will turn into maths wizards overnight. Needless to say, my little nephew's maths exam scores have always been very impressive.
What are you waiting for? Go fire the maths tutor and make your kids a plateful of
suan pan zi
!
As far as noodles and pasta go, SPZ is pretty nutritious. The mashed yam has lots of vitamine B6, which helps lower the risk of heart disease. And lots of potassium which helps control blood pressure. And fibre! Who doesn't need more fibre?!
Chinese New Year feasting and drinking is all about auspiciousness, and
suan pan zi
fits the bill perfectly.
STIR-FRIED SUAN PAN ZI

(算盘子)


(Recipe for 2 persons)

450 g (purple) yam (aka taro, weigh after peeling), peeled and washed
100 g tapioca flour
1 tsp salt
3 Chinese dried mushrooms (15 g), washed and soaked till soft (30 minutes)
15 g dried prawns, washed and soaked in water till soft (20 minutes)
3 tsp oil
1 clove garlic, peeled and minced
150 g minced pork
1 tsp light soya sauce for marinating minced pork
1 tsp sesame oil
3 tsp light soya sauce for seasoning Suan Pan Zi
1 tsp fish sauce
pinch of sugar
5 stalks garlic chives (or more if you like), washed and cut into 1-inch long pieces
ground white pepper, to taste

Cut yam into ½-cm thick slices and steam over high heat till soft, 10 minutes. Mash immediately. Add salt and tapioca flour. Mix well. As soon as
mixture is cool enough to handle, knead till yam and flour are evenly mixed and not sticky. Divide into 2 pieces. Work on 1 piece whilst keeping the other covered. Pinch about 2 tsp dough and roll into a ball. Flatten slightly, then make a depression in the middle with your finger. Repeat . . . .

Cook SPZ in rapidly boiling water till floating. Remove with slotted spoon to cool water. Drain when cool. Toss with oil if not using immediately.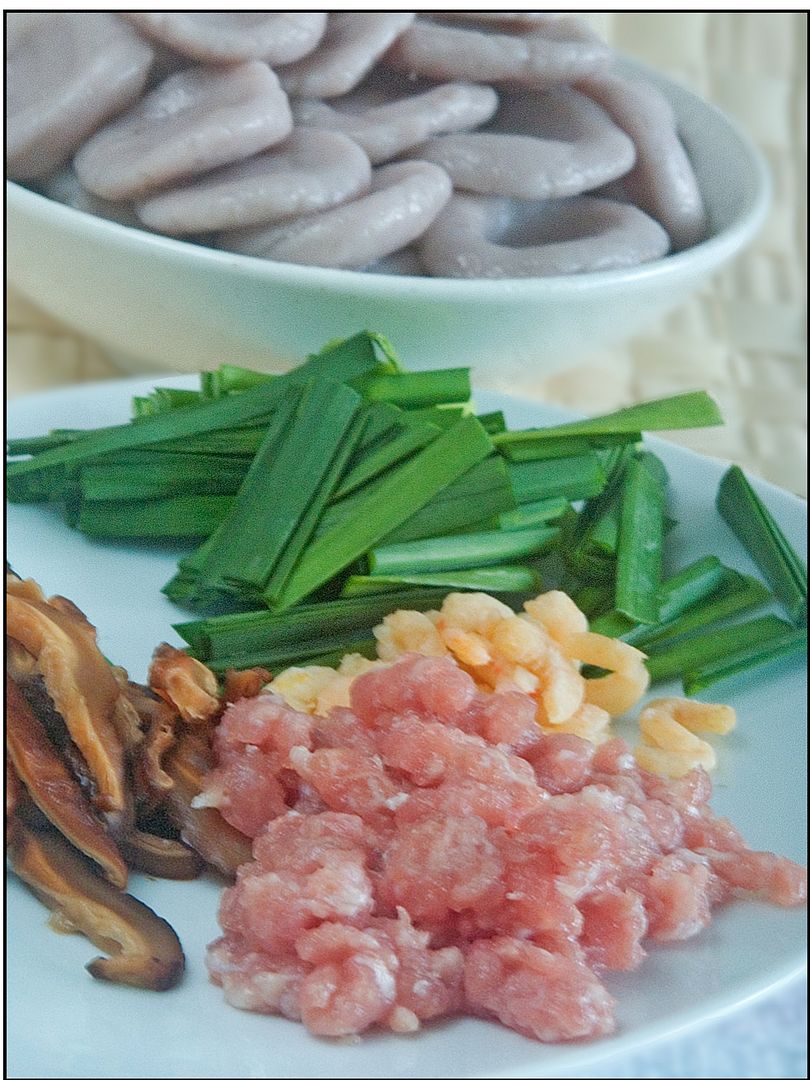 Marinate minced pork with light soya sauce and sesame oil for 15-20 minutes. Drain and squeeze dry mushrooms and dried prawns, setting aside drained liquid. Slice mushrooms thinly. Roughly chop dried prawns.

Heat oil in a wok till just smoking. Add dried prawns. Stir till heated through. Add mushrooms and garlic. Fry till garlic is lightly golden. Add pork and stir to break up the mince. Add SPZ. Stir till heated through. Add light soya sauce, fish sauce and sugar. Stir till absorbed. Add 2 tbsp liquid from soaking mushrooms and dried prawns. Stir-fry till sauce is reduced, but not too dry, and slightly sticky. Taste and adjust seasoning if necessary. Add garlic chives and dash of ground white pepper. Stir to mix. Turn off heat. Plate and serve.