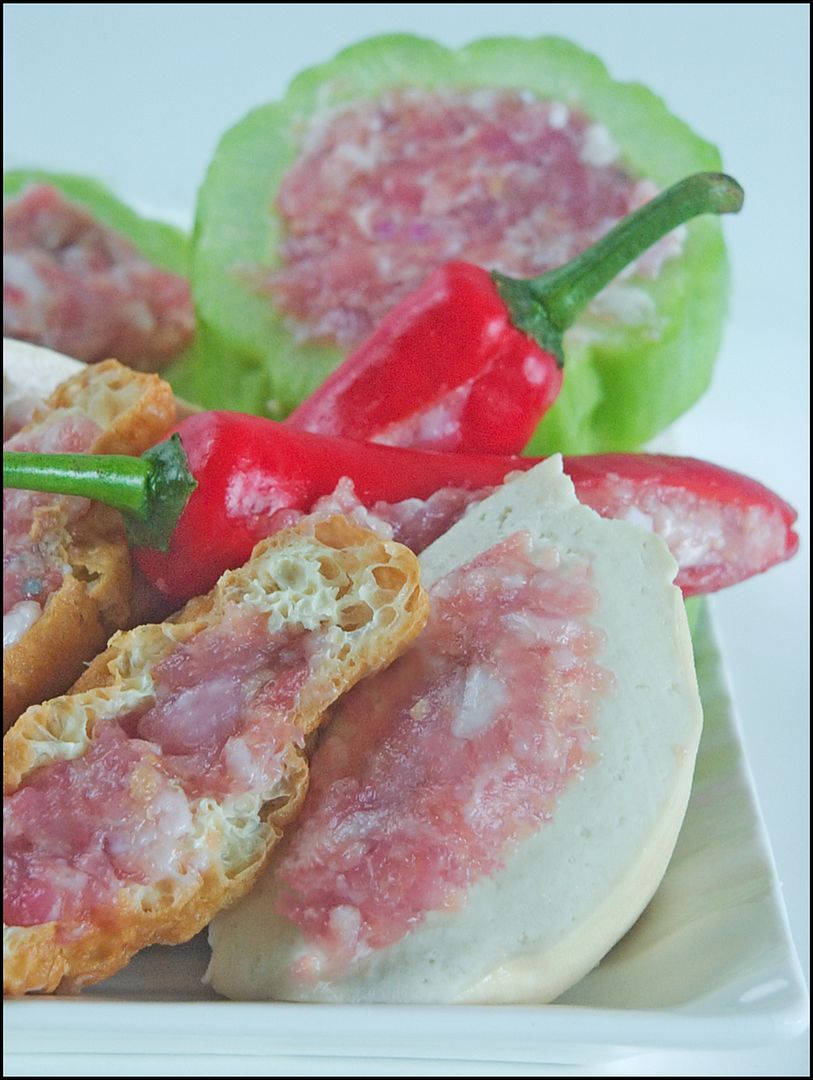 What makes Hakka
yong tau foo
Hakka?
It's the pork. Hakka yong tau foo is always made with minced pork, not fish.
It's also the salted fish, added to give the minced pork a salty fragrance.
Yong tau foo
may be cooked in the broth, or deep-fried or pan-fried.
YTF may be served in a broth, or drizzled with chilli sauce and sweet sauce. A gravy made with oyster sauce and a good, strong stock is a good option too.
Eaten with rice or noodles, YTF can be a complete meal. Of course, it can still be a complete meal sans carb.
I love YTF very much whether it's made with pork or fish. I don't mind if it sits in a broth, sauce or gravy. I like it best with
bee hoon
but don't mind rice or other types of noodle. Anything would do so long as the YTF isn't factory made.
HAKKA YONG TAU FOO (客家釀豆腐)


(Recipe for 32 pieces)

500 g chicken breast, rinse and blanch in boiling water
40 g dried anchovies, without heads and bones, rinse
70 g dried soya beans, rinse

4 pieces tau pok
½ bitter gourd, about 12 cm long
8 red chillies
4 small pieces firm beancurd (450 g), slice diagonally into 2 pieces

400 g minced pork
20 g salted mackerel, pan-fry till brown and mince finely to yield 2 rounded tbsp
– replace with deep-fried sliced shallots and 1 tsp light soya sauce if not available
4 tsp light soya sauce
1/8 tsp ground white pepper
½ tbsp cornflour, plus more for dusting
2 tsp white sesame oil

oil for pan-frying

250 g xiao bai cai (bok choy), rinsed and cut bite size
200 g dried rice vermicelli, soaked till soft

To make stock, place chicken, anchovies and soya beans in 2.5 litres boiling water. Bring back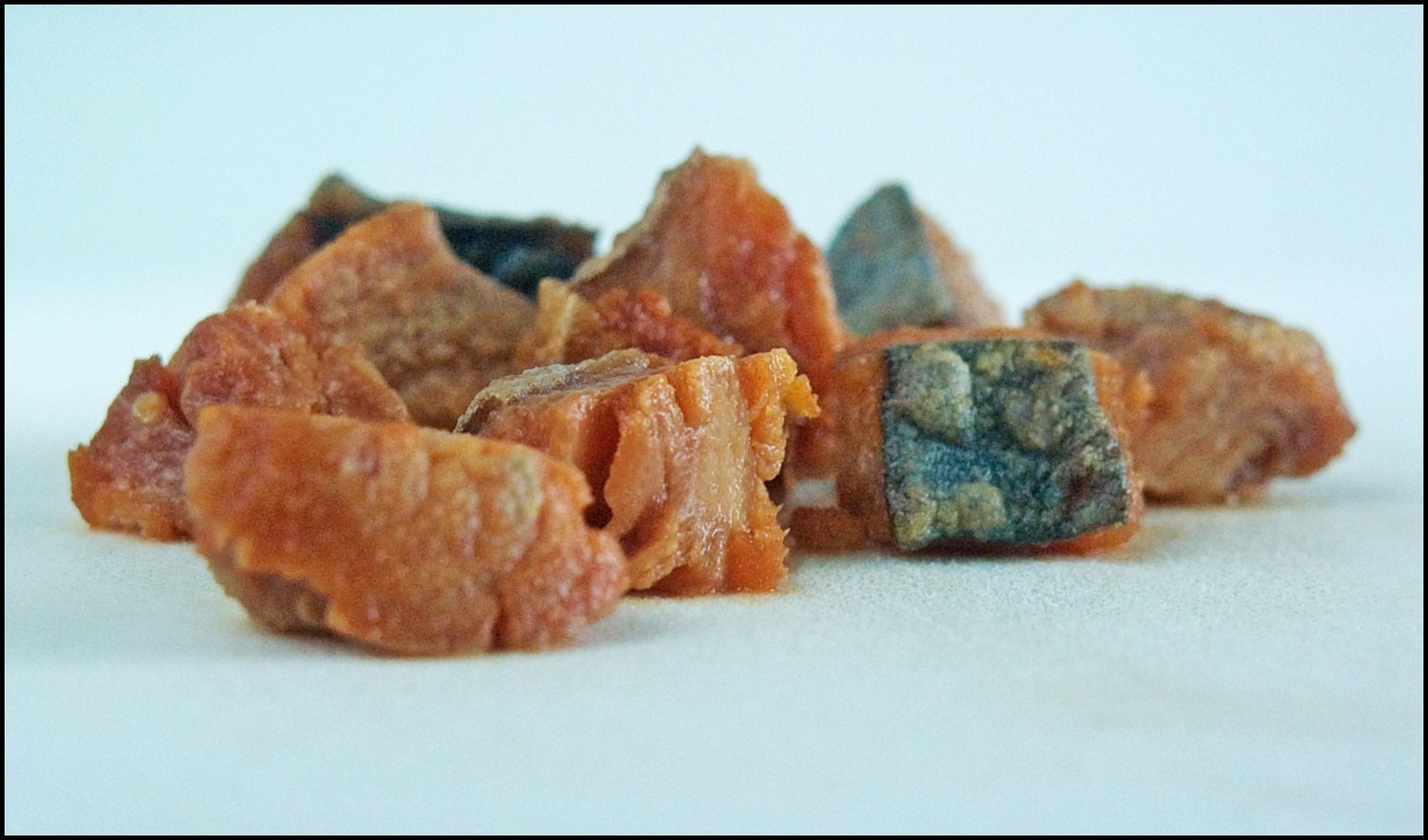 to a boil. Reduce heat to very low. Simmer gently, covered, for 2 hours. Strain to get a clear soup.

Blanch beancurd puffs in boiling water to remove excess oil. Squeeze dry. Rinse, then squeeze dry again. Cook in simmering stock till almost soft, about 30 minutes. Remove and squeeze dry. When cool enough to handle, slice diagonally into 2 pieces. To fill with minced pork, make a pocket by separating cut side with fingers.

Rinse bitter gourd. Cut into rings 1.5 cm thick. Remove pulp and seeds. Dust inside ring with corn flour just before filling.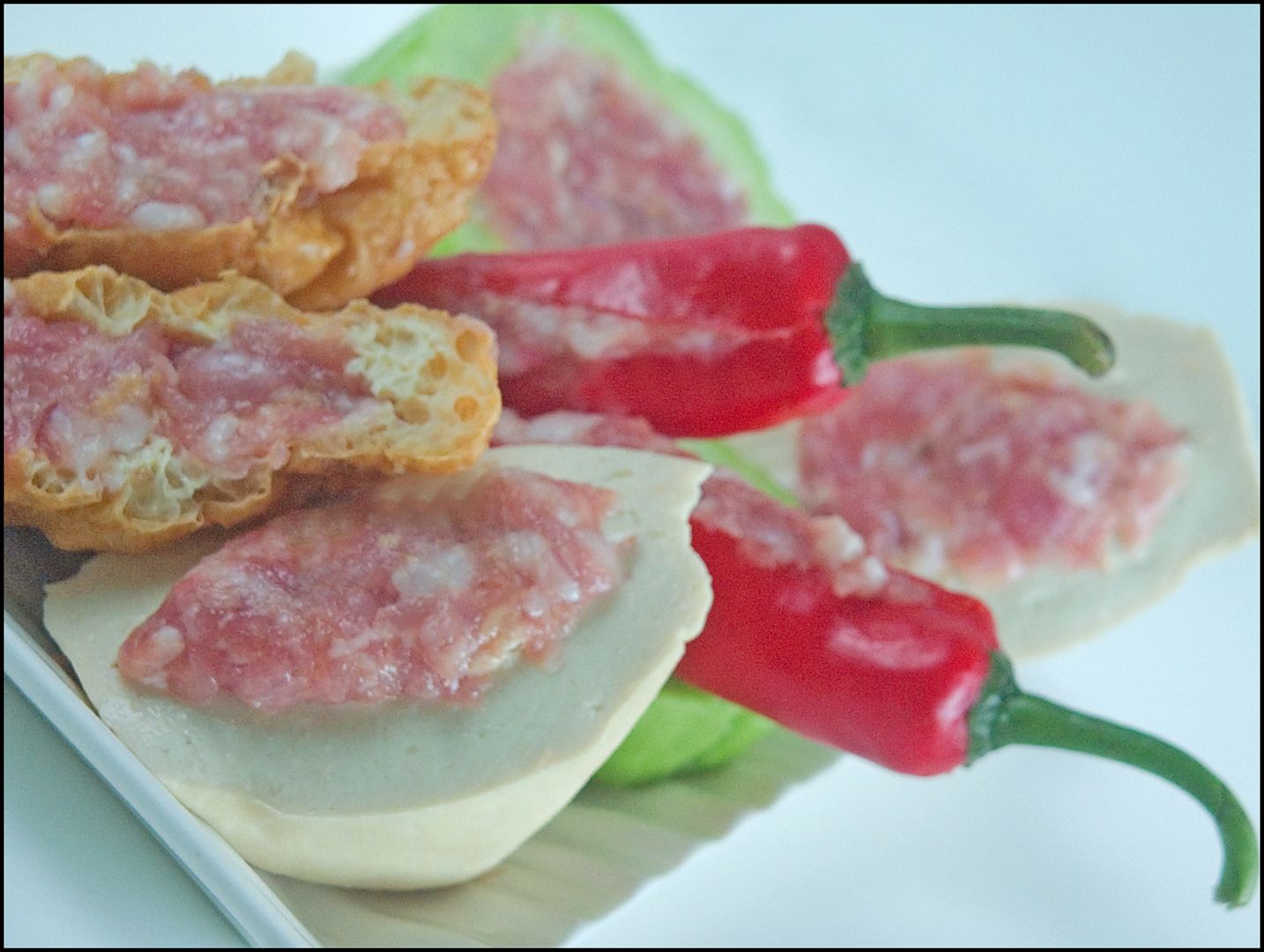 Slit chillies lengthwise. Remove seeds without breaking chillies. Rinse. Dust inside with corn flour just before filling.

Rinse beancurd. Cut each piece into 2 halves diagonally. Make slit in cut side without cutting through.

To prepare filling, place pork in a big bowl. Grab with one hand and slap back into bowl. Repeat till pork is sticky, about 5 minutes. Add soya sauce, white pepper, salted fish and sesame oil. Mix till even.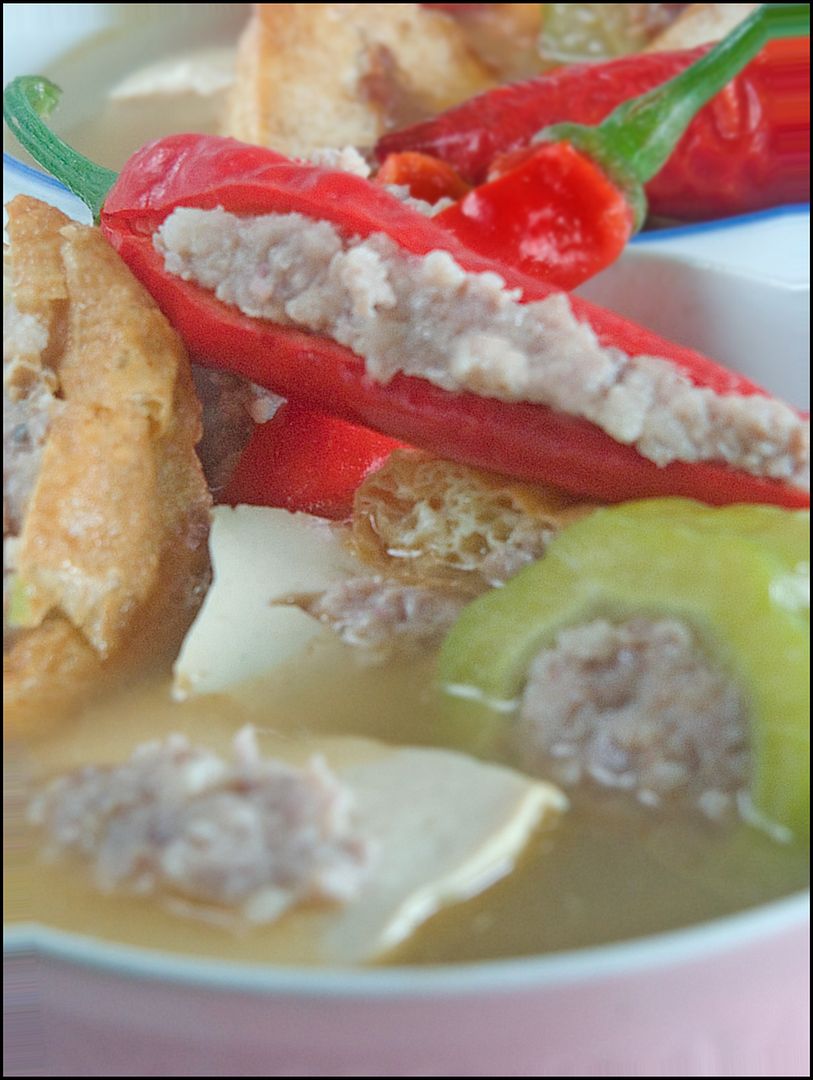 Fill bitter gourd, beancurd, chillies and beancurd puffs with about 1 tbsp pork each. Smooth top of filling with back of spoon, smearing edges a bit (which helps the filling stick better).

Pan-fry bitter gourd, beancurd and chillies over high heat till browned. Or you could leave 'em unfried, or have have a mix.

To serve, simmer beancurd puffs and unfried bitter gourd in the stock till soft, about 10 minutes. Add

xiao bai cai

, beancurd, chillies, fried bitter gourd and noodles if using. Taste and add salt or light soya sauce if necessary. Bring everything back to a boil.

Add some deep-fried shallots, garlic, spring onions or dash of white pepper just before serving.