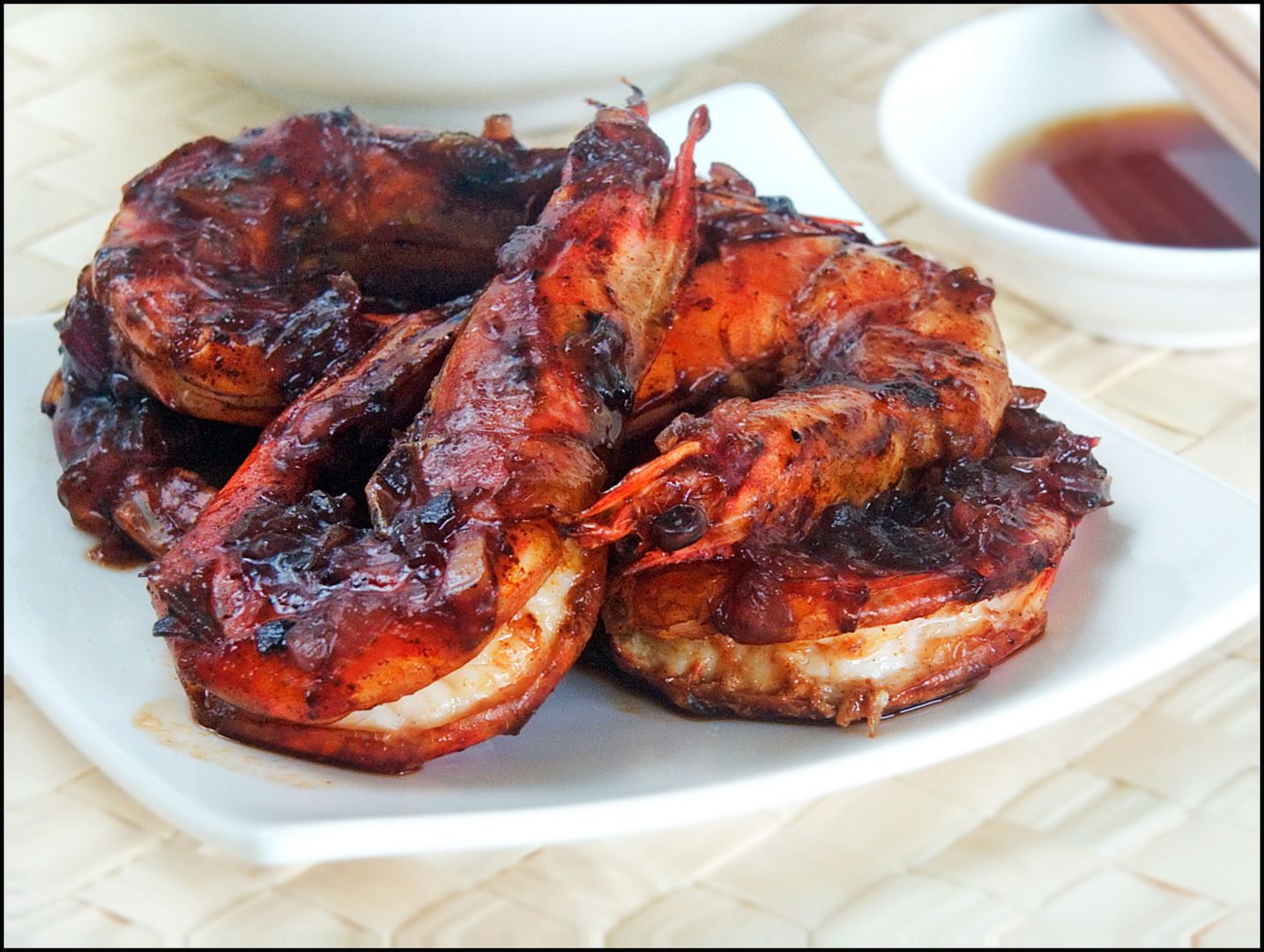 I love prawns every which way. All the way from
live
(!), to
raw
, steamed, poached, stir fried, pan fried, deep fried, grilled and baked. Not forgetting
dried prawns
, which I can't live without. Stinky and fermented
shrimp paste
? Pickled
cincalok
? Bring it on!
Honestly, there's no such thing as bad prawns, so long as they're fresh and not overcooked. Yup, even dried, fermented and pickled prawns must be made with the freshest catch if you want quality stuff.
I really can't say assam prawns is my favourite way of eating prawns, 'cause I love 'em done whatever way. But, as I write this post (Saturday, 4 pm), I'm drooling as I think about the assam prawns I just had for lunch. The tangy sweetness of the tamarind sauce, the succulence of the prawns,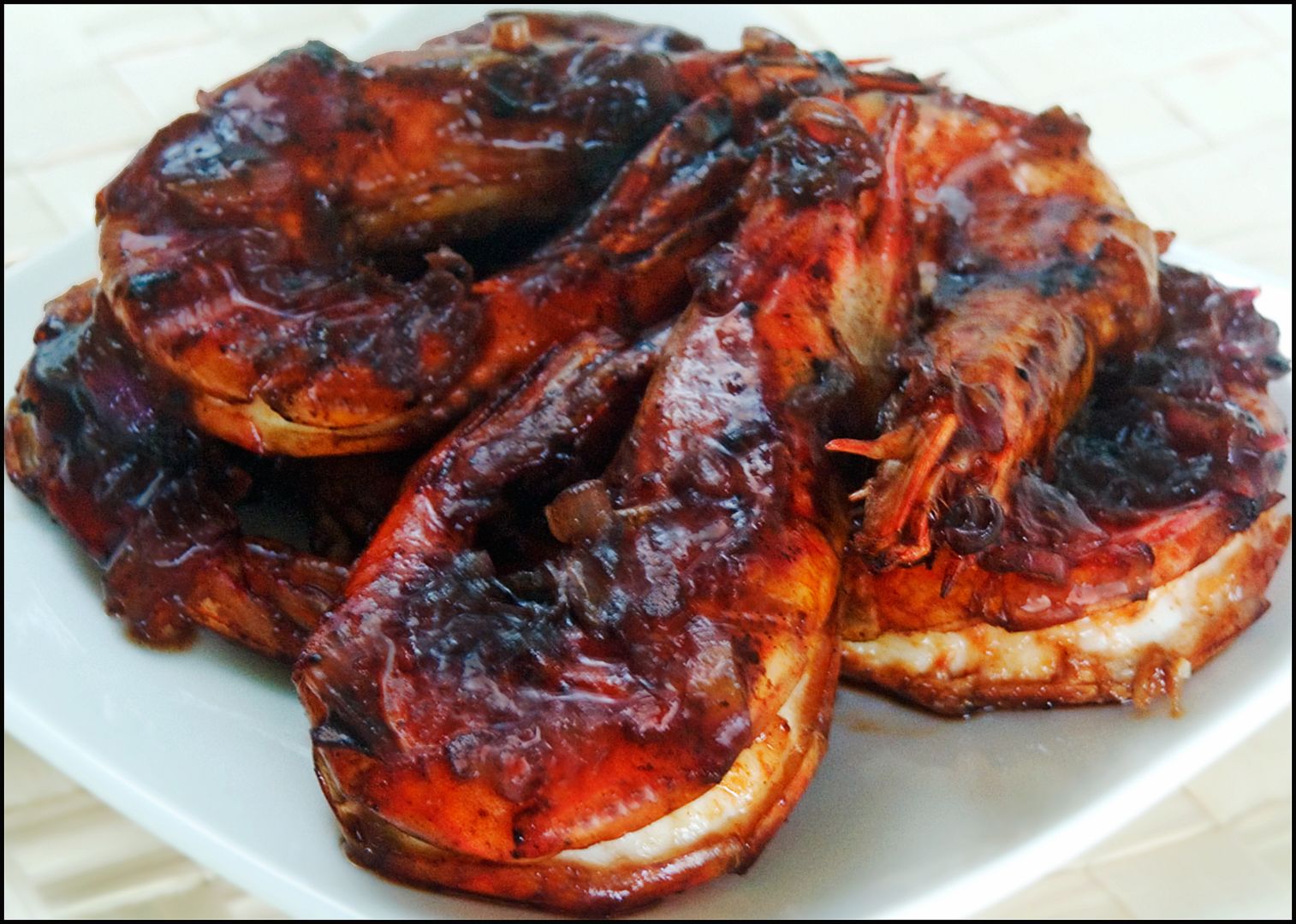 the aroma from pan-frying the prawns in their
shells . . . .
Oh boy, that's the killer! Assam prawns must have shells, ok? It just ain't the same without shells!
I think I'm hungry again. Oh dear, I wish the photos were edible!
Om nom nom

nom

. . . .
Sadly, I have no more prawns in the fridge. Otherwise, I would have Assam Prawns again for dinner. Dang! Too bad I can't eat the photos. Dang again!
Note to self: Set the alarm clock, get up early tomorrow morning – Sunday! – and buy the freshest prawns at the market. Meanwhile, stop drooling!
ASSAM (TAMARIND) PRAWNS (亚参虾)
(Recipe for 4 persons)

50 g tamarind (

assam

) paste
16 prawns (600 g)
1½ tsp dark soya sauce
1½ tsp salt
2 tbsp vegetable oil
5 shallots, thinly sliced
3 tbsp sugar, or to taste
⅛ tsp ground white pepper, or to taste

In a bowl, add 5 tbsp hot water to tamarind. Steep till cool enough to handle. Mash paste and water till evenly mixed. Drain liquid into a separate bowl. Discard pulp.

To prepare prawns, trim legs and feelers. Cut through shell on the back. Remove veins. Rinse and dry thoroughly with paper towels. Marinate with salt and dark soya sauce for 15 minutes.

Heat pan/wok, non-stick if possible, till very hot. Add vegetable oil and heat till just smoking. Fry prawns over high heat till 70-80% cooked, in batches if necessary to avoid overcrowding. Transfer prawns to a plate.

Add 2 tbsp water to the wok/pan. Swirl to deglaze. Add shallots and tamarind liquid. Simmer, uncovered, till sauce is reduced and shallots are soft. Add sugar and ground white pepper to taste. When the sauce is thick, taste and adjust the balance of sourness and sweetness if necessary. Add prawns to the wok. Toss till well coated. Plate and serve.