If you like strong flavours, you'd like the Hakka way of cooking pork belly.

The fatty cut is marinated with red fermented beancurd and Shaoxing wine, deep-fried, then braised in the marinade along with fried ginger, shallots and ginger and wood ear fungus.

Don't forget to cook more rice when you make this Hakka dish!

HAKKA DEEP-FRIED PORK BRAISED WITH RED FERMENTED BEANCURD
(客家南乳炸肉)
(Recipe for 4 persons)

20 pieces wood ear fungus (木耳), about 30 g dry weight
500 g lean pork belly with skin, 2 strips cut fairly thick, about 3 cm
three 3 cm squares red fermented beancurd (南乳, aka 紅豆腐乳)*
1 tbsp red fermented beancurd pickling sauce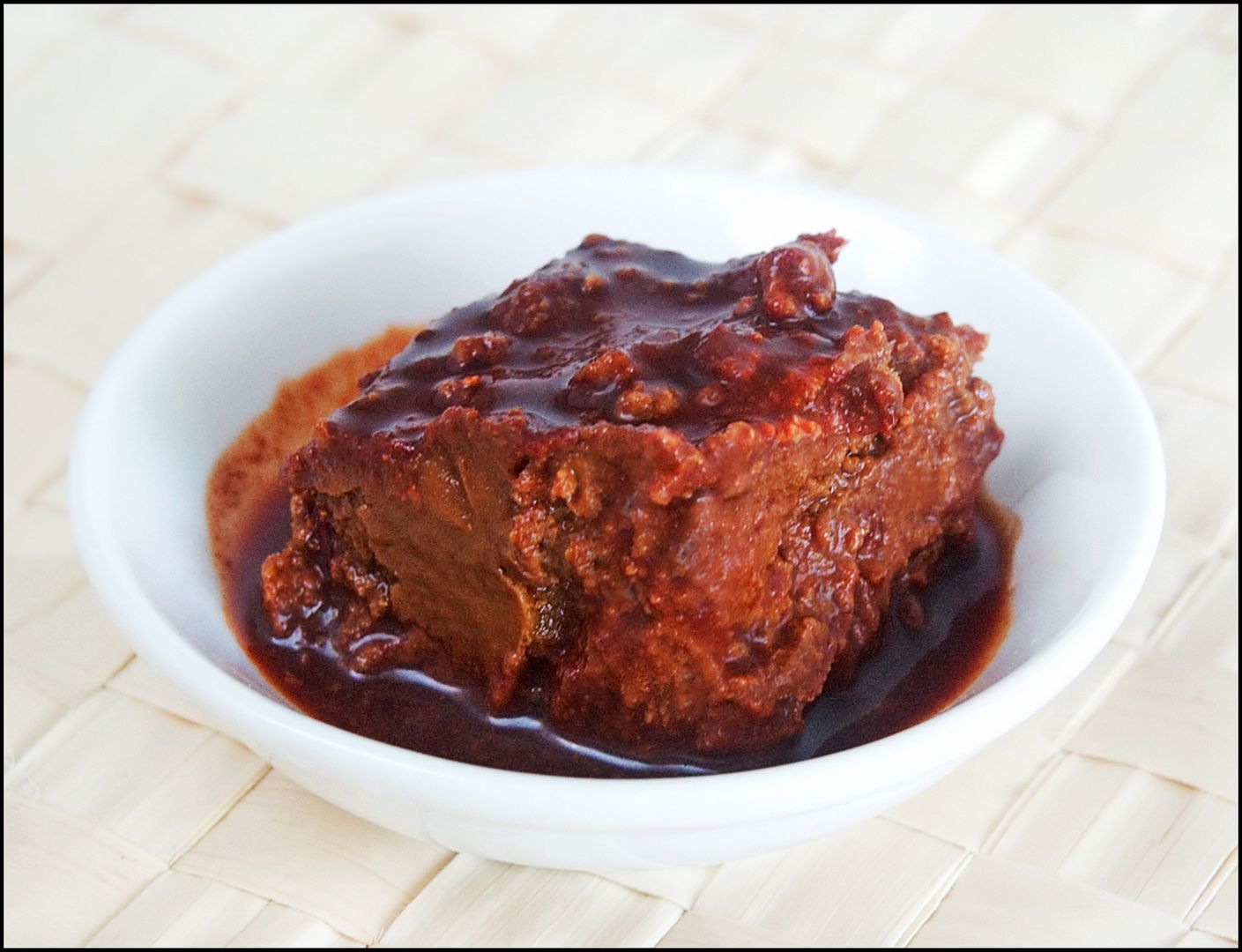 3 tbsp Shaoxing wine
½ tsp ground white pepper
½ tsp salt
2½ tbsp sugar

2 tbsp cornflour for dusting
vegetable oil for deep/pan-frying

30 g ginger, mince finely
4 shallots, mince finely
4 cloves garlic, mince finely

Soak wood ears in water till soft, about 30 minutes. Remove and discard tough ends. Rub off sand/grit on surface. Tear into bite size pieces. Rinse till water is clear. Drain well.


Mash red fermented beancurd with wine, pickling sauce, sugar, salt and white pepper. Mix till even.

Wash, dry and cut pork into chunky pieces, about 2 cm wide. Marinade with red fermented beancurd mixture for 2 hours.

Scrape excess marinade from pork. Dust lightly with cornflour. Deep-fry skin side down till

deep brown

. Turn over and deep-fry till

light brown

(this side would be tough if it's fried till deep brown).

Remove oil from pan/wok after frying, leaving about 2 tsp. Add ginger and shallots. Stir-fry till lightly golden over high heat. Add garlic. Stir-fry till everything is golden brown. Add wood ear fungus. Stir-fry till wok/pan is very hot again. Add marinade. Stir-fry till heated through. Add pork belly. Add water to just cover pork, stirring to deglaze pan/wok. Bring to a boil. Simmer gently, covered, till pork is tender and sauce slightly thickened, about 45 minutes, topping up with water as necessary. Taste and adjust seasoning if necessary. Serve piping hot with rice or porridge.