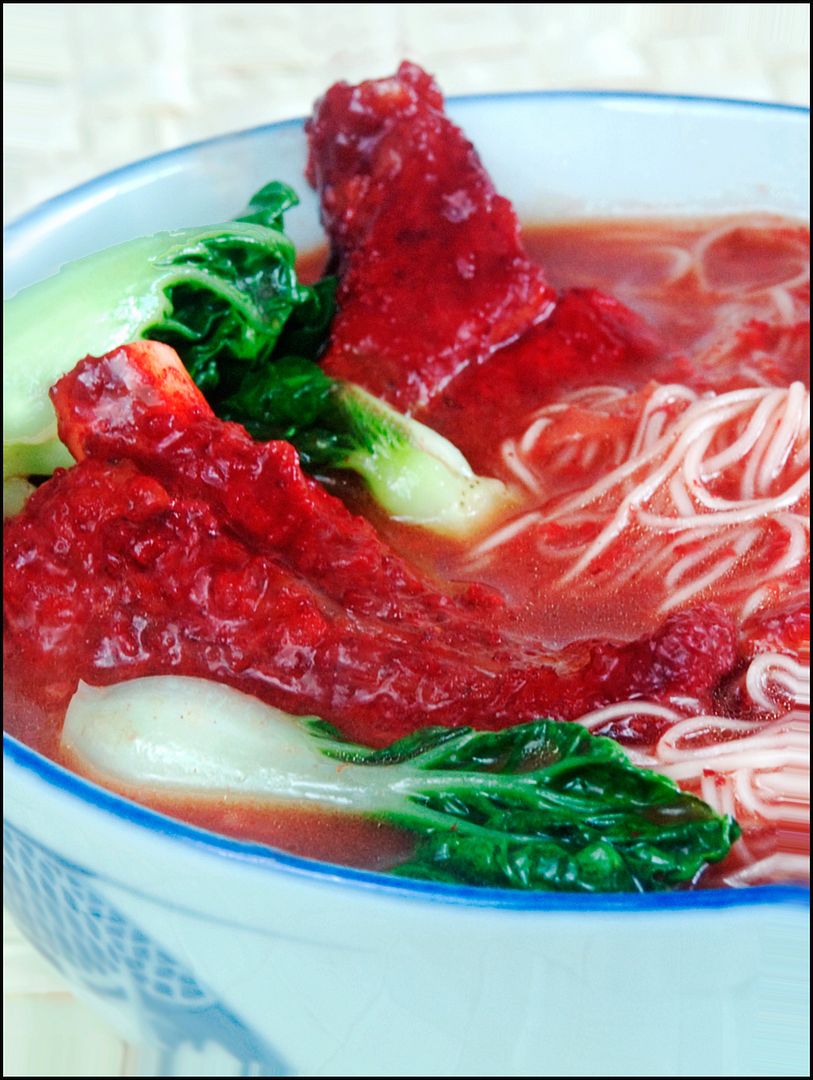 A few weeks ago, I made some
chicken with red wine dregs
(红糟鸡). As I was writing about how effective red yeast rice extract was in lowering cholesterol, I looked at the photos I had taken. And I started to get worried. The red yeast stuff looked so . . .
red
!


Maybe there's something wrong with photos?
I went to the fridge and looked at the real wine dregs. Nope, there was nothing wrong with the photos. The dregs were really that shade of fire engine red. I rubbed my tummy, feeling rather uneasy.
Yikes! It must be Sudan Red!
Sudan Red, a carcinogenic industrial chemical dye, is found in a lot of red colored food products.
Remember the salted eggs recall a few years back?
That was because of Sudan Red, which was used to make the yolks redder and more appealing to consumers. Other common products that might contain Sudan Red are tomato sauce, saffron and chilli powder. In fact, anything that has chillies is highly suspect. And because these sauces and spices are used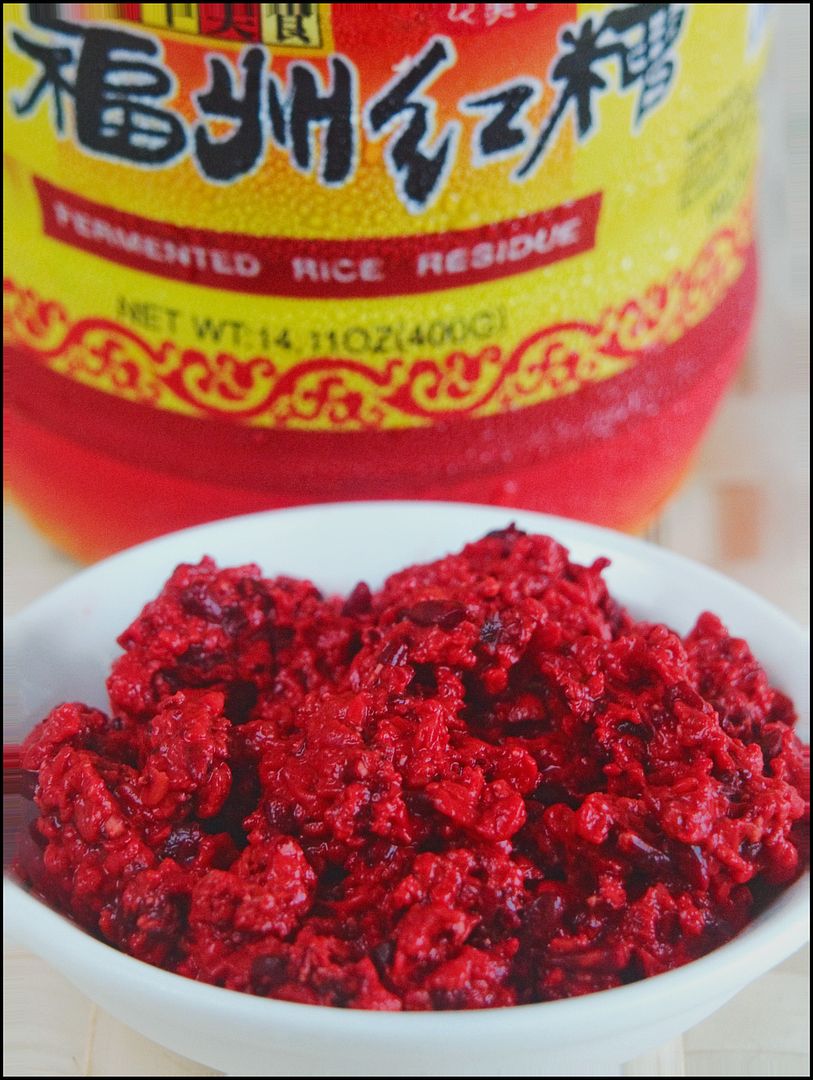 to make other products, Sudan Red could be found in anything from pies to sausages, salad dressing, pasta sauces, pasta and stews. In 2005, the UK had its biggest food recall ever involving over 600 products contaminated with Sudan Red (story
here
).
I could have thrown away the gaudy, red paste from China but I really liked the chicken cooked with it. Anyways, innocent till proven guilty, right? I decided to give the wine dregs a chance before I sent it to the gallows/bin. I emailed the AVA – Agri-Food & Veterinary Authority, which is in charge of food safety in Singapore – and asked them to check if there was Sudan Red or other food colouring in the wine dregs I had bought.
I guess you can tell from the recipe I'm sharing today that it's good news from the AVA. Despite the artificial looking hue of red, the wine dregs have no added colouring at all, permitted or prohibited.
Phew! It's safe!
The AVA responded with the test results in two weeks which was quite efficient, I thought. And all I had to do was send them an email saying blah blah blah. Not bad at all.
Naturally, I should reward myself after all the 'hard work' done for the investigation. What could be more appropriate than noodles and pork ribs floating in a sea of
natural
red?
I was happily slurping my noodles when I saw something in the box they came in. It was a piece of paper provided by the manufacturer to separate the two layers of noodles in the box, and it said . . . 'Soon Fat'.


Aaaah! So
that's
why I'm putting on weight!
NOODLES WITH RED WINE DREGS (红糟面线)


(Recipe for 4 persons)

3 tsp vegetable or white sesame oil
12 thin slices ginger (12 g or so)
6 tbsp red wine dregs (90 g) (红糟 or 'fermented rice residue')
600 g pork ribs chopped about 5 cm (2 inches) long, washed and drained
6 tbsp Shaoxing wine (or red glutinous rice wine, which is the wine used traditionally,


. . .

if you have some)
3 tbsp light soya sauce
½ tsp salt
4½ tbsp sugar
150 g

xiao bai cai

(小白菜, aka

bok choy

)

8 bundles

mee sua

(面线), or 250 g dried noodles such as

bee hoon

or

ramen,




. . .

cooked according to package instructions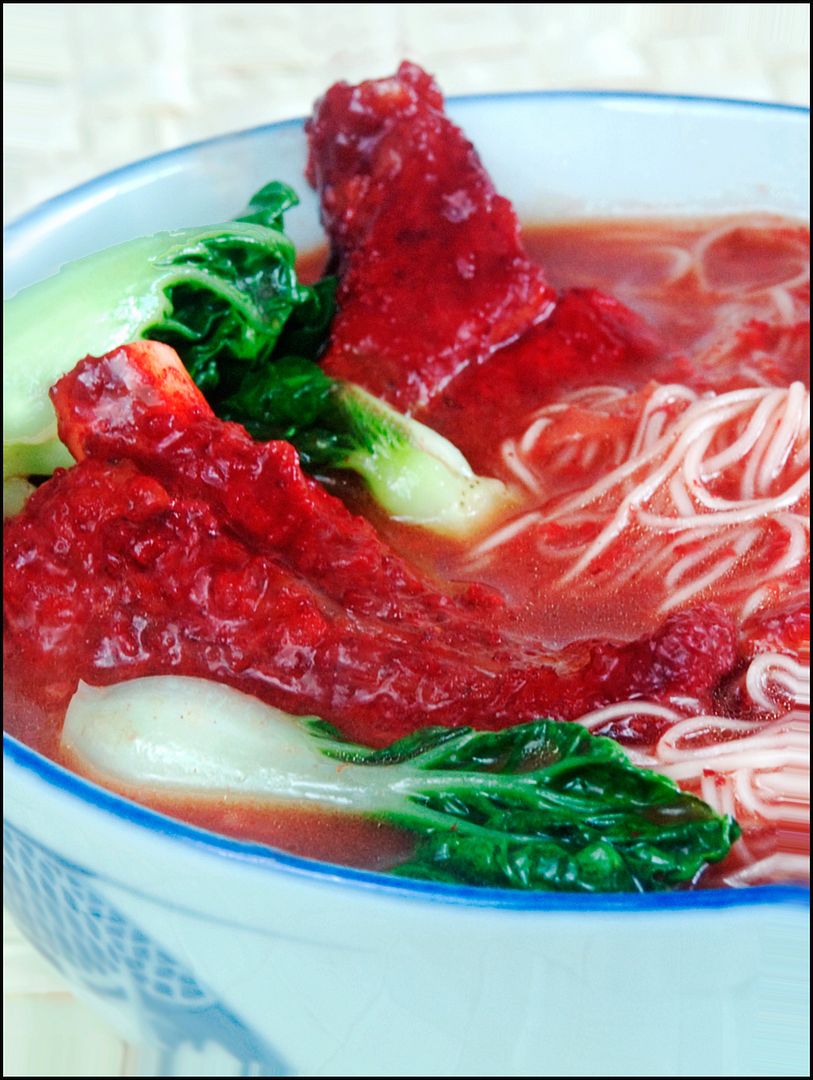 Heat wok till very hot. Add oil and heat till just smoking. Add ginger and stir-fry over medium heat till lightly golden. Add wine dregs and stir-fry till fragrant and colour darkens. Increase heat to high. Give wok a few seconds to heat up. Add ribs and stir-fry till heated through and wok is stonking hot again. Add 2 tbsp wine. Stir till absorbed. Add other seasoning. Stir till absorbed again. Add rest of wine, and enough water to just cover ribs. Stir to deglaze wok. Bring to a boil. Cover and simmer on low heat for 45 minutes. Top up with more water if necesssary. Have a taste when sauce is thickened. Adjust seasoning if necessary. If it doesn't taste right, you probably need more sugar. Top with more water to just covering ribs again. Cover and simmer gently till meat is tender and sauce is thickened, 30-45 minutes depending on how soft you like it. Remember to check that water doesn't boil dry and top up as needed. Skim off oil if necessary.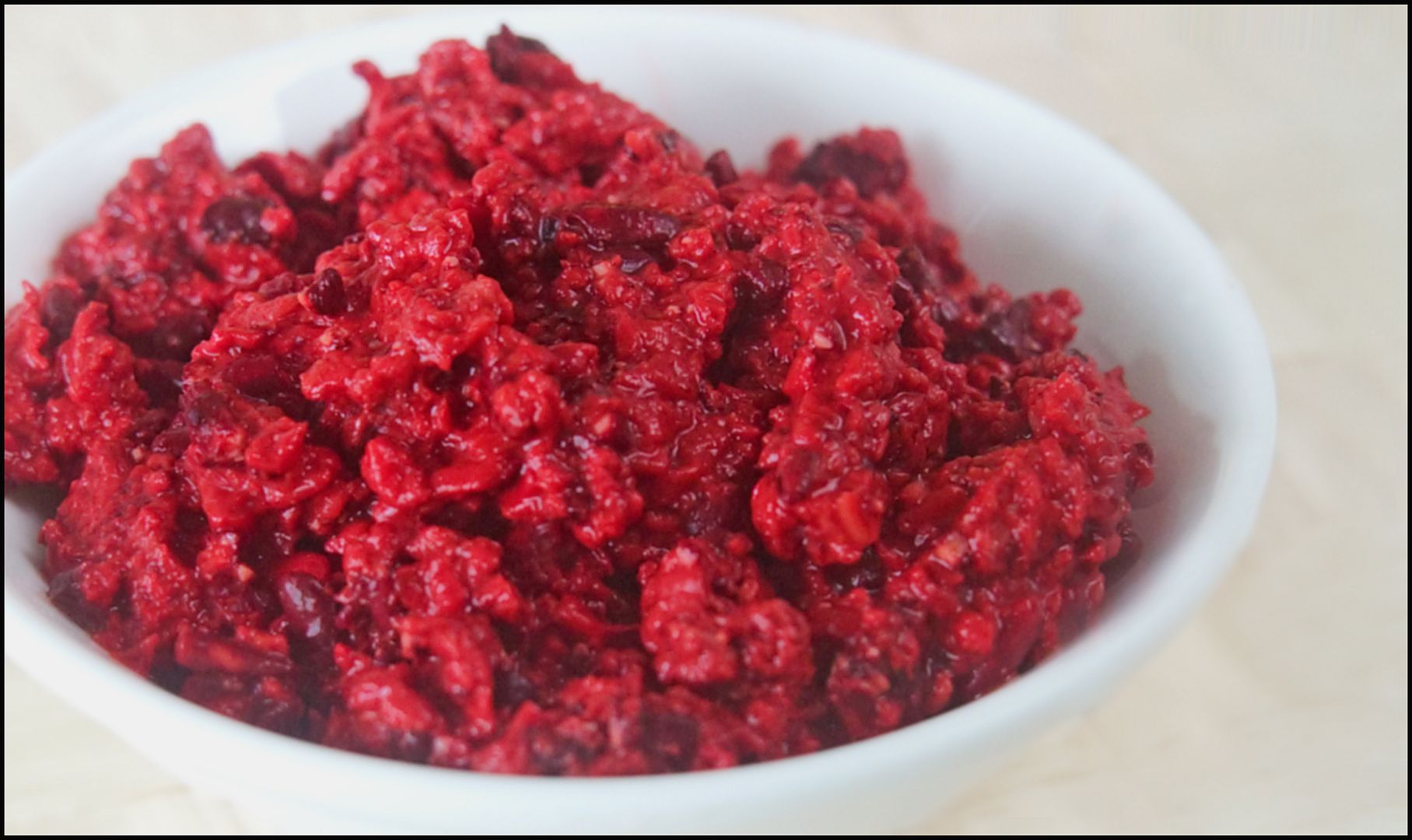 When ribs are ready, bring 6 cups water to a boil in a pot big enough to hold the noodles and vegetables as well. Add ¾ of ribs' sauce. Taste and add more sauce if necessary. You probably need most of it. Add more light soya sauce and sugar if necessary but it probably isn't. Add vegetables. Bring to a gentle boil. Add cooked noodles and bring back to a gentle boil. Turn off heat. Plate and top with ribs. Serve.


Some brands of

mee sua

are very salty even after blanching in hot water. If that's the case, remember to use less sauce when assembling noodles.

Mee sua

overcooks easily, and it absorbs a lot of liquid as it sits. Take care it's not overcooked; make sure there's sufficient stock; and serve immediately. Slurp up the noodles pronto; don't wait.