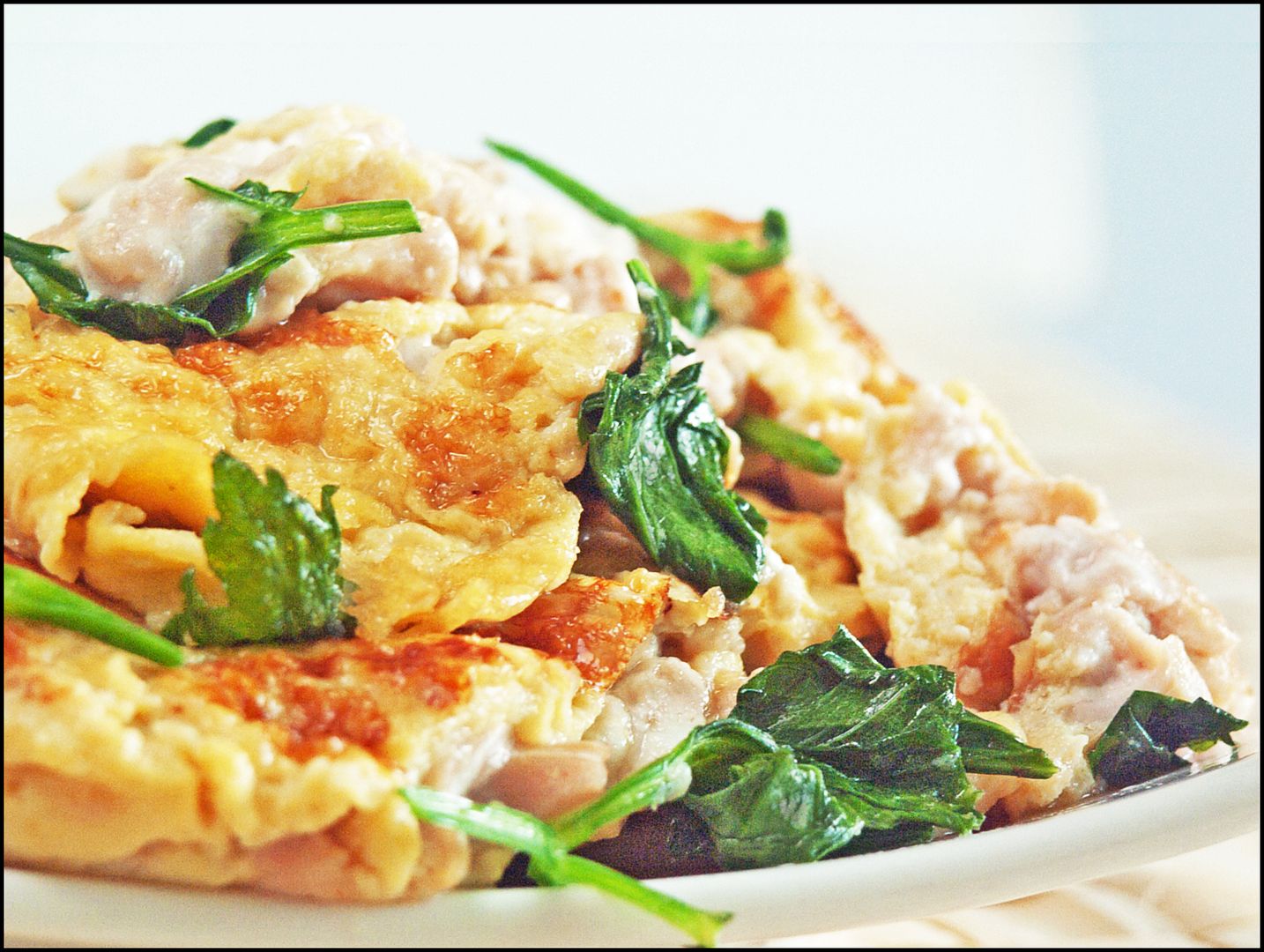 Pig brains used to be a popular food for Chinese. The practice has died out more or less, but I thought it would be nice to have a record of how traditional Double-Boiled Pig Brain Soup is made. And also Pig Brain Omelette, which is the photo on the left. Doesn't look too bad, does it? The other photos, however, are a bit gruesome, to be honest. So, if you're squeamish, you should not read this post. Did you get that? Repeat:
GO AWAY IF YOU'RE SQUEAMISH!
This post is for those who are brave, or those who have a bit of Hannibal in them. If you think you're one of them, please continue reading. Or come back later if you just ate.
| | |
| --- | --- |
| | Don't blame me if you're going 'Aaaaargh!' or 'Eeeeew!' I did warn you. This is what a pig's raw brain looks like. What did you expect? See the bit of bone fragment on the left? Nice, eh? |
| | |
| --- | --- |
| | I don't know if other tribes eat the membrane surrounding the brain but my tribe – 'Ooonga oonga!' – doesn't. To remove the blood vessels, you stick a toothpick into the web, then twirl. All the red stuff would wind itself around the toothpick. |
| | |
| --- | --- |
| | This is what it looks like after it's done. The twirling takes a couple of minutes. |
| | |
| --- | --- |
| | After a thorough rinse, the brain is ready for the pot. Yes, it's soft, and slimy after it's washed. |
Make a double-boiled soup with some lean pork and Chinese herbs such as ginseng,

dang gui

or cordyceps. Add a couple of Chinese dried dates for sweetness.
| | |
| --- | --- |
| | Or make an omelette, which doesn't look scary at all. No one would know what's in it unless you tell them. The brain doesn't taste nasty, just soft and creamy. If you say it's beancurd, it's totally plausible. |
Judging from the price – 50 cents each – I guess the brain isn't the most treasured part of the pig now. In the old days, they were extremely popular around exam time. My mother had to go to the market early in the morning to make sure she got one. Like many other Chinese mothers, she believed pig brains improved intelligence, and ginseng provided an energy boost. So, I had double-boiled brain and ginseng soup faithfully waiting for me once or twice a week, just before going to bed. Only when school exams loomed, mind you, to make sure I scored well. Rest of the time, we had Pig Brain Omelette occasionally on Sundays. It was a treat, believe it or not, and the 'brainy' bits were the most coveted. Ah yes, those were the days . . . .
DOUBLED-BOILED PIG BRAIN SOUP




(Recipe for 1 person)


8 slices

dang gui

, or 15 slices American ginseng

1 pig brain, cleaned as described above
100 g lean pork, rinsed
2 Chinese dried red dates, rinsed

Put all ingredients in a small bowl or ramekin that can hold 300 ml (1¼ cups). Add ½ cup water. Cover the bowl or ramekin, with aluminium foil if it doesn't have a proper cover. Double-boil with gently simmering water for 3 hours. If you like, remove the herbs and dates, which are not eaten. Serve hot.

Typically, pig brain soup is taken just before going to bed so that it's not eaten with other stuff that might negate the benefits of the brain and herbs. Anything acidic such as oranges is a big no-no till the soup is digested and absorbed! As are salt and pepper in the soup for the same reason.



PIG BRAIN OMELETTE




(Recipe for 4 persons)


1 pig brain, cleaned as described above, and cut into small, bite size pieces
2 eggs

2 tsp light soya sauce
couple of dashes ground white pepper
½ tsp Shaoxing wine
small pinch of sugar
3 tsp vegetable oil
1 tbsp roughly chopped Chinese parsley



I like to add 1 tbsp milk/water/stock per egg when making omelettes but not for a 'brainy omelette' because there's quite a bit of water in the crevices.



Beat all ingredients except oil and Chinese parsley till thoroughly combined. Heat wok or frying pan (18 cm would be just right) till very hot. Add 2 tsp oil and heat till almost smoking. Add egg mixture. Fry over medium heat till bottom is lightly golden, pushing edges to the middle so that the omelette cooks evenly. When eggs are 75% set, cut omelette into 4 pieces with a spatula. Turn each piece over. Add Chinese parsley. Drizzle with 1 tsp oil. Fry till the second side is also lightly golden brown. Plate and serve