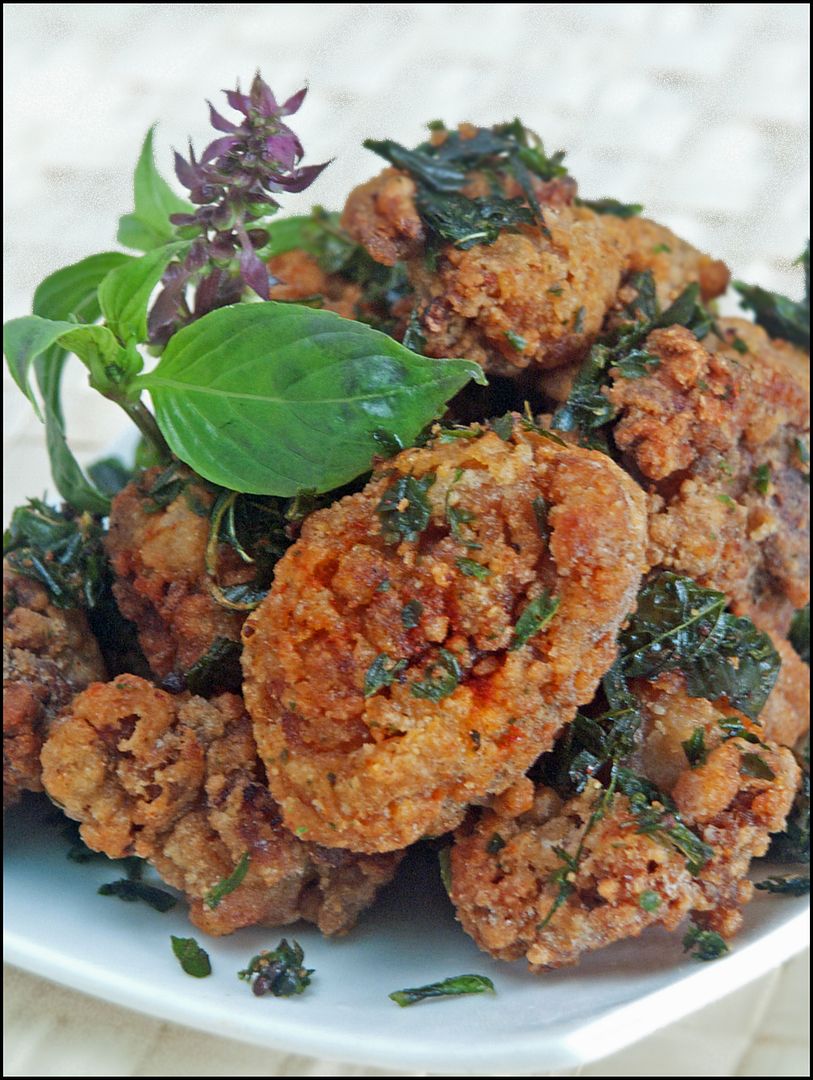 It's chicken; it's deep fried; and it's got lots of seasoning. How can 盐酥鸡 – salted crispy chicken – not be a winner? It's practically the king of nighttime street food in Taiwan, loved by young and old alike.
Eat your heart out, KFC, in the land of 盐酥鸡. (Hey, it rhymes!)
Using a recipe from the Taiwanese cookery teacher
here
, the 盐酥鸡 I made yesterday bore the classic hallmark of street food – it made me quite thirsty! Hah, so it really had the feel of night market food! There was quite a lot of salt in the seasoning, as well as sugar and spices which masked the saltiness. 盐酥鸡 isn't something that should be eaten too often, I guess, but it makes a great occasional nibble.
Besides being heavily seasoned, good salted crispy chicken must be, as its name says, crispy.
The key to getting the maximum crunch is deep-frying the chicken twice, once to cook it and a second time to crisp it. The first round of deep-frying is quite easy. It's good so long as the chicken is slightly brown, and just cooked or almost cooked. The oil shouldn't be too hot, but hot enough to set the flour so that it doesn't fall off.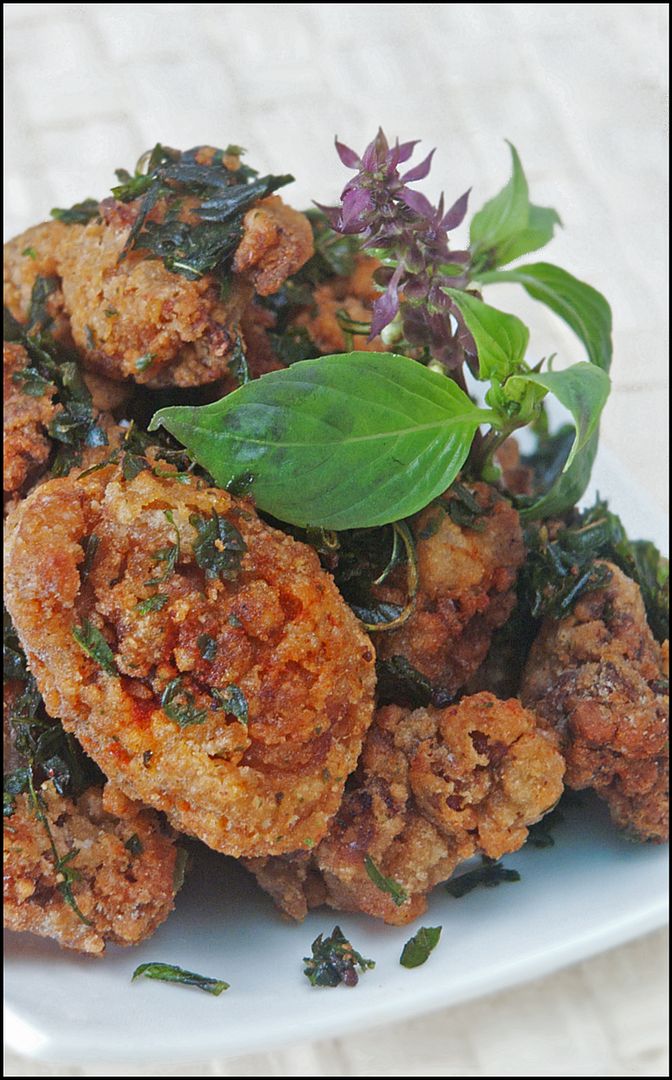 Whilst the chicken is waiting for the oil to heat up for round two, excess moisture in the meat rises to the surface. Which then evaporates when the chicken is refried, causing the oil to bubble rapidly. When the bubbling subsides, that means the coating of flour is dry. Ideally, at the same time, the chicken should be just turning a perfect shade of golden brown. If it isn't, that means the oil isn't hot enough, and the flour is full of oil and therefore soggy. Or the chicken may be brown before the bubbling stops because the oil is too hot. That means the flour is full of moisture and therefore soggy.
The conclusion is: a deep-fryer with temperature control would be very handy!



The night markets in Taiwan where 盐酥鸡 is commonly found sometimes have performances. In the same spirit, I'm also offering entertainment with my post, and it's a Hokkien/Taiwanese song, no less. Before you sniff at the idea, thinking Hokkien songs are terribly lowbrow, let me assure you this is a classy performance with a full size orchestra and humongous chorus. In fact, the Taiwanese songstress is so good that she shows Placido Domingo a thing or two. That's right, Placido Domingo singing a Hokkien song, upstaged by a woman from Taiwan (who admittedly had some home advantage):
SALTED CRISPY CHICKEN (盐酥鸡)


Source: 周老師的美食教室
(Recipe for 4 persons)

500 g chicken, washed, dried with paper towels, and chopped into bite size pieces


Marinade


2 tbsp light soya sauce
2 tsp sugar
2 tsp mashed or very finely minced garlic
½ tsp chicken powder
½ tsp five-spice powder
½ tsp ground white pepper
1 tbsp potato flour

½ cup sweet potato flour, coarse if possible
vegetable oil for deep-frying

½ cup basil (九層塔), leaves only, rinsed, and dried with paper towels
½ tsp ground white pepper
½ tsp chilli powder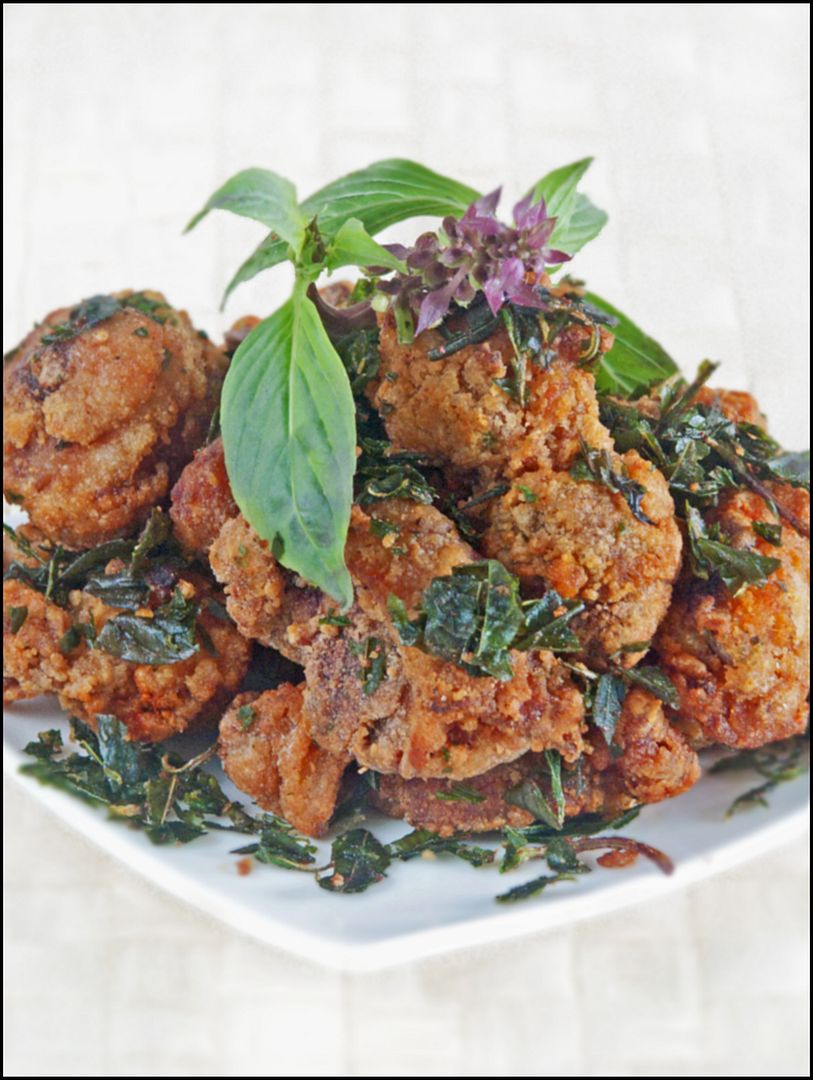 Marinade chicken for 1 hour. Dredge with sweet potato flour. Wait 5 minutes to let moisture in chicken seep into flour. Press gently so that flour sticks well.

Deep-fry chicken in moderately hot oil over medium heat till just cooked or nearly cooked and lightly golden brown on both sides, about 3 minutes depending on size. Drain. Reheat oil to just smoking. Fry chicken over high heat till golden brown. Drain on paper towels.

Reheat oil to just smoking. Deep-fry basil for a few seconds, till oil is no longer stonking hot. Remove leaves with a slotted spatula. Reheat oil till just smoking. Fry basil for another few seconds till crisp. Drain on kitchen towels.

Put chicken and basil leaves in a big bowl whilst piping hot. Sprinkle with pepper and chilli powder. Toss to mix thoroughly. Plate. Serve with rice, or as a finger food with drinks. It's also good with Teochew porridge.
.