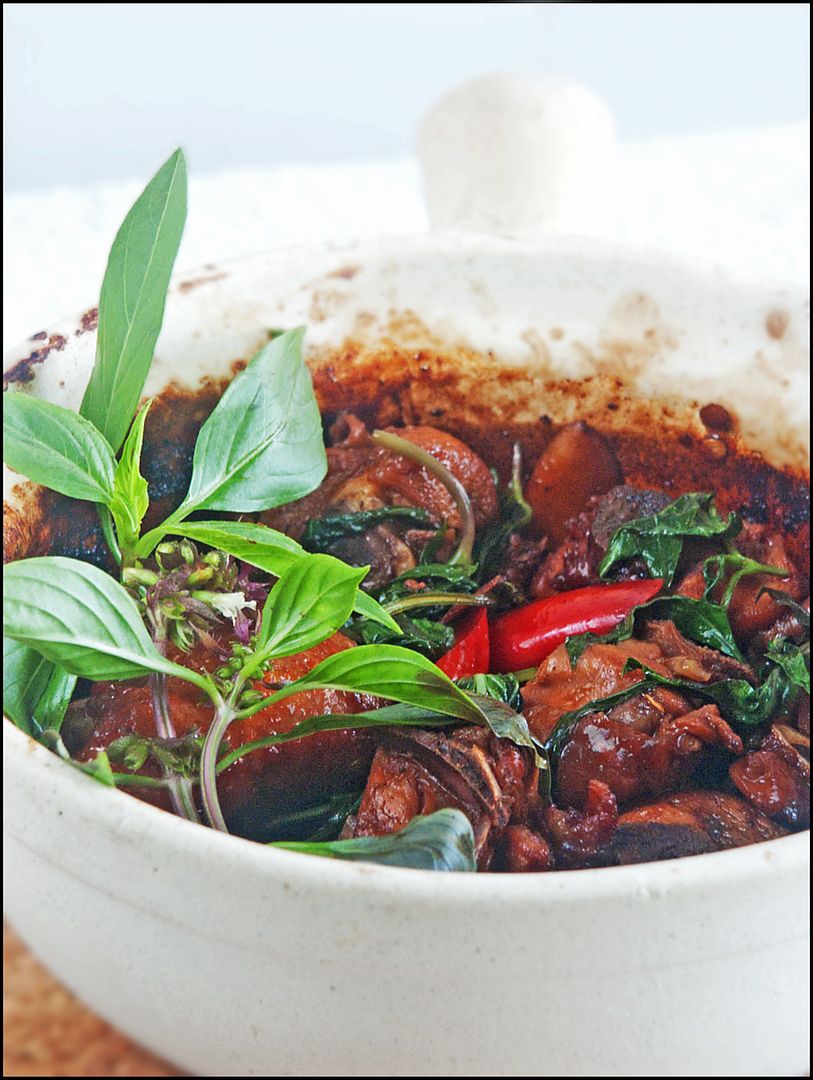 The most difficult part about cooking, for me, is finding good ingredients. The quality of a lot of products is really quite bad nowadays.
Some chicken is so tasteless that if you ate it blindfolded, you wouldn't know what it is. Likewise with fish that's farmed. Groundnuts, even if freshly roasted and freshly ground, may not have much aroma. Bitter gourd is barely bitter. Mangoes taste just sweet at best and smell of nothing.
When I was a kid, they had such a heady fragrance that holding one to my nose was (almost) better than eating it. So thank goodness there's basil that still smells and tastes like basil.
Taiwanese love basil. They add basil to chicken, pork, clams, prawns, omelette, soup, etc – just about everything. Three-Cup Chicken, or 三杯鸡, is one of Taiwan's 'national' dishes that uses lots of basil. Invented by the Hakkas in Taiwan, it's extremely popular in the home as well as restaurants.
Three-Cup Chicken is quite similar to
Sesame Chicken
(麻油鸡) since both use lots of sesame oil, wine and light soya sauce. But there're some differences too. Sesame Chicken doesn't have any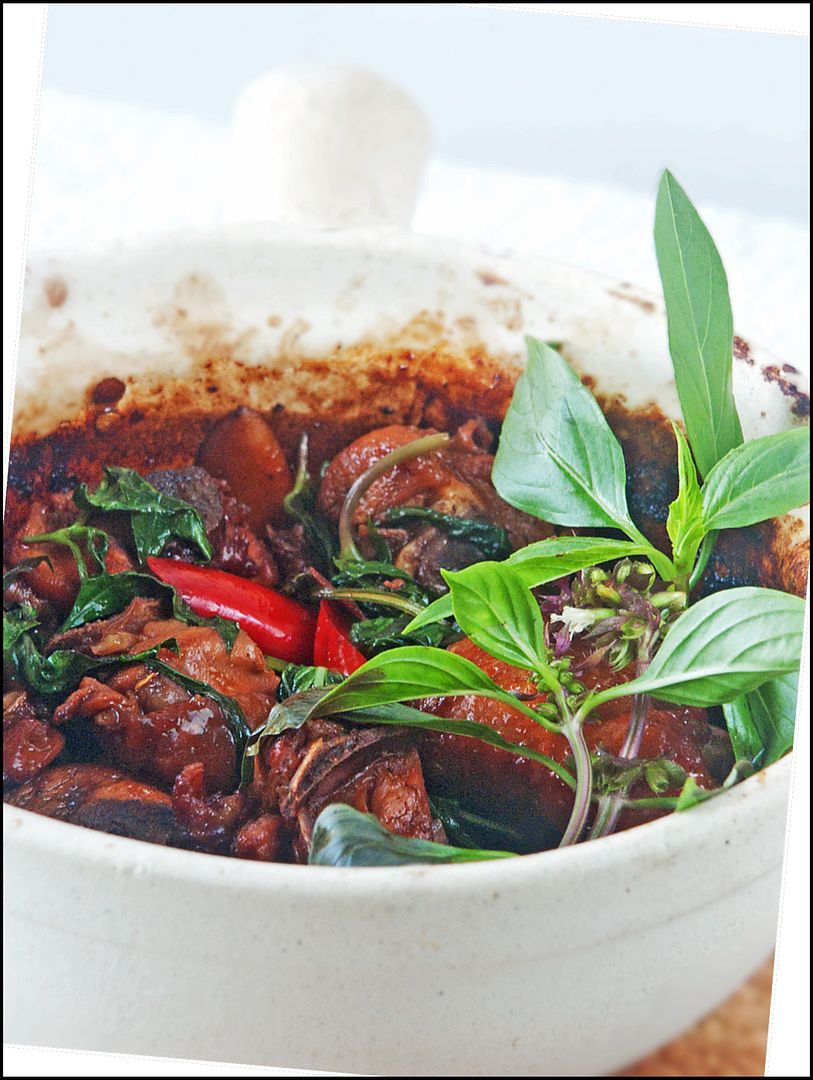 basil; it isn't sweet or spicy; and it has a watery sauce that may be thickened with cornflour. Three-Cup Chicken, OTOH, is a bit sweet and spicy; it's quite dry when it's done because no water is added during cooking; and basil is the soul of the dish.
Let's see, anything else . . . ? Oh yes, presentation. Three-Cup Chicken is typically served in a claypot that's covered. When the cover is removed at the table, everyone gets a full whiff of the fragrance from the basil, sesame oil, rice wine . . . the whole lot.
Mmm . . . .
'Three-Cup' supposedly means one cup each of rice wine, light soya sauce and sesame oil, which would make some really oily and salty chicken. Maybe people in the old days liked stronger seasoning so as to stretch the meat?
I prefer to use one cup of rice wine to 0.5 cup of light soya sauce and about 0.2 cup of sesame oil. Strictly speaking, what I make is 1.7-Cup Chicken!
But I guess 'Three-Cup' could be reinterpreted. How about one cup of chicken, one cup of basil,
and . . .
one cup of rice? Or if you prefer a cup of ice cold beer over rice, that would do too. In fact, why not have both and make it four cups? Three cheers for Four-Cup Chicken – 四杯鸡! Yay!
THREE-CUP CHICKEN (三杯鸡)




(Recipe for 4 persons)


2 chicken legs (450 g), rinsed and chopped bite-size
1½ tbsp white sesame oil
2 pieces ginger, thumb size, washed, and thinly sliced
10 cloves garlic, topped, peeled, and rinsed
2 sprigs spring onion, washed, trimmed, and cut 5-cm (2-inches) long
3 large chillis, washed and cut 2-cm (1-inch) long
6 small chilli padis, or to taste, washed and roughly chopped
½ cup rice wine (8 tbsp)
4 tbsp light soya sauce
2 tbsp sugar
1 cup Thai sweet basil (九層塔), leaves only, washed and drained well
¼ tsp black sesame oil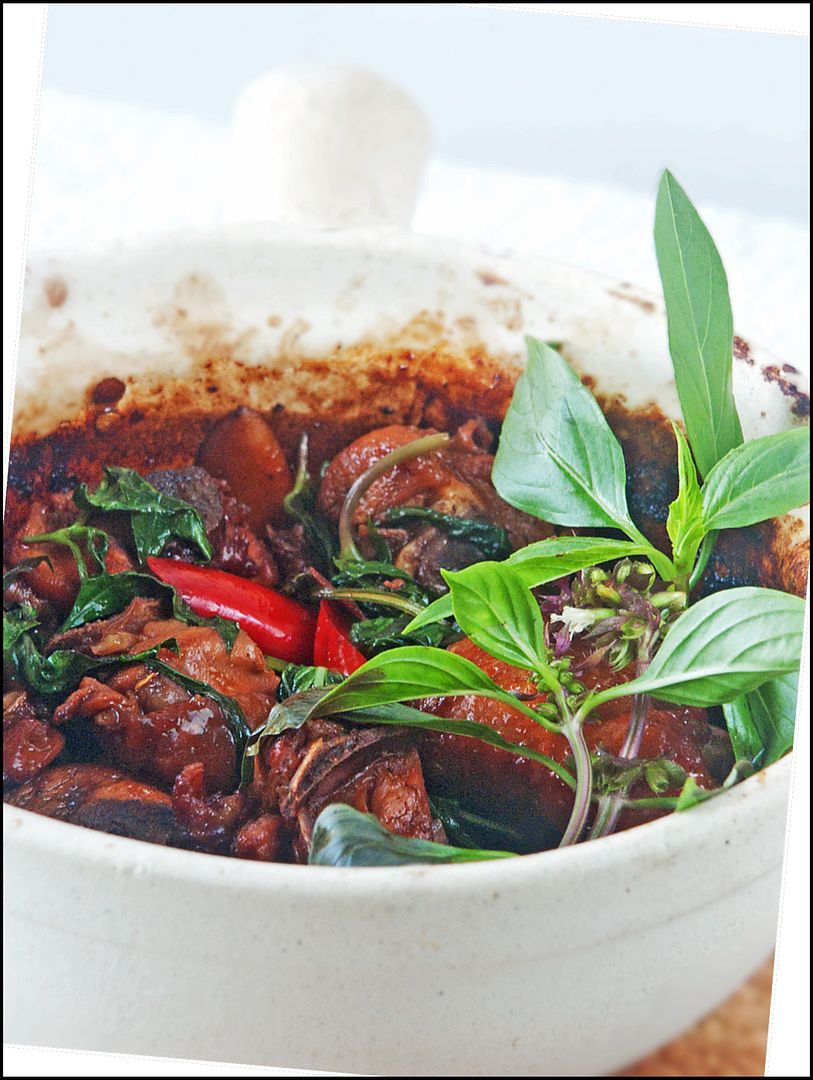 The chicken should be cut fairly small so that it can be coated with lots of sauce. Otherwise, it's quite tasteless because it's not marinated or braised.



Preheat a small claypot, if you have one, over medium-high heat whilst stir-frying chicken. Don't forget the cover.

In a stonking hot wok, stir-fry ginger in stonking hot sesame oil over high heat till slightly golden.

Add garlic, chillis and spring onion. Stir-fry till garlic is lightly golden and wok is stonking hot again.

Add chicken and fry till lightly brown, stirring occasionally, and wok is stonking hot.

Drizzle with 2 tbsp rice wine. Stir till wok is stonking hot (again!) and dry, a few seconds.

Drizzle with another 2 tbsp rice wine. Repeat stirring till wok is stonking hot (!) and dry again, a few seconds.

Add light soya sauce and sugar. A few quick stirs. Add remaining rice wine. Stir to mix thoroughly.

When sauce is slightly thickened, turn off heat. Transfer to preheated claypot. Increase heat for claypot to high. Stir till chicken is coated with sauce, which should be gleaming, dark and sticky. Taste and adjust seasoning if necessary. Add basil. Mix a bit, quickly so that basil is only a bit wilted. Drizzle with black sesame oil. Cover. Turn off heat.

Bring covered claypot to the table. Uncover when everyone's seated. They should then go 'Oooooh!' and 'Aaaaah!' Otherwise, don't cook for them again, ever.

If not using claypot, cook chicken in the wok till sauce is sticky. Stir through basil till fully wilted. Plate and drizzle with black sesame oil. Serve.